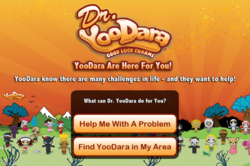 YooDara Luck on Your iPhone: Dr. YooDara app Delivers Fun
Prescott, AZ (PRWEB) April 26, 2012
Once open, the Doctor YooDara app prompts users to state their problem then pull the lever on a slot machine. After the images spin for a moment, users are presented with the three YooDara characters that best fit the nature of the issue and their magical powers. The dynamic Doctor YooDara app also includes a listing of stores nearby where YooDara Good Luck Charms are available and opens the map program for instant directions. Users instantly bring their friends in on the fun with the Facebook share button.
YooDara are handmade collectible string charms, offering positive messages special to each of the 36 characters, suitable for a variety of situations and lifestyles.
Collectors of YooDara are encouraged to visit YooDara.com as well as the YooDara Facebook, Twitter, and YouTube pages to participate in a dynamic online community.
Tribes of YooDara charms are grouped by common positive themes, including protection, good luck, power, and wisdom. Each character comes with an attachable disk to identify their name and power. Internet access codes on each disk provide members-only access to activities on the free YooDara.com website. QR codes on the package lead customers to the YooDara experience on the YooDara.com website.
YooDara Good Luck Charms have been featured by NBC's the Today Show as well as TrendHunter Magazine, the world's number one largest, most popular trend spotting community. The characters were also spotted with top YouTube personalities DeStorm and Jory Caron.
Follow the YooDara Twitter page at http://www.twitter.com/YooDara and Like the YooDara on Facebook at http://www.facebook.com/YooDara for instant news, updates and contests.
YooDara Good Luck Charms are available at specialty, gift, and souvenir shops throughout the nation. For more information, or to find a YooDara retailer, visit http://www.YooDara.com.
###
Dimension 9 is a manufacturer of quality gift products. Privately owned and operated, Dimension 9 develops and imports superior, high-quality and high-profit products. Products can be found in many prominent locations such as nationally recognized attractions and premier gift and souvenir stores, and is now growing internationally.