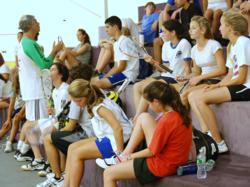 Hartford, CT (PRWEB) April 25, 2012
The International Squash Academy announces a unique opportunity for squash players to find out what it takes to play at the next level. They will be running a four-day showcase where players will enjoy exceptional training facilities, individualized coaching from top college coaches, in-depth match play analysis and rigorous team competition. Participants will be placed on a camp team led by one of our seven amazing collegiate coaches. Each camper will play six matches over the course of four days.
The showcase will be held from July 29 - August 1 at Miss Porter's School in Farmington, CT for rising high school sophomores through rising college freshman. Participants will play on the eight brand-new, air-conditioned courts located right on the beautiful campus. Farmington is a centralized location between Boston and New York City. Its only 2.5 hours from New York City and 2 hours from Boston. It is also just 15 minutes from Hartford.
The showcase will benefit those who are considering playing at the college level. Learning how to compete while enjoying summer fun will leave each player with a better understanding of what you want next and prepare you for the season ahead.
Some of the top collegiate coaches in attendance will be Trinity's Paul Assaiante, Tufts' Belkys Velez, St. Lawrence's Chris Abplanalp, Vassar's Jane Parker, Cornell's Mark DeVoy, and Hamilton College's Jamie King. This is the perfect opportunity for players to showcase their talent in front of the top college coaches in the country.
For more information on this tremendous opportunity, or to register, visit http://www.campsquash.com, or call 1-800-944-7112.