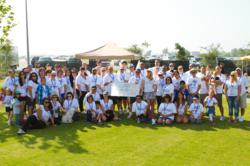 Sarah Pizzaruso, Development Manager for the Orange County and the Inland Empire says, "Our Walk event is so unique with our "festival of wishes" atmosphere, and we look forward to making it even bigger and better next year!"
Costa Mesa, CA (PRWEB) April 25, 2012
90 employees including several executives stepped out in support of the 2nd Walk for Wishes in Orange County. "It is the second consecutive year for Morgan Drexen to be a part of the Walk for Wishes in Orange County and we have exceeded expectations this year with our employee donations and the huge team that has joined together to walk," says Morgan CEO and founder Walter Ledda.
2012 brought Orange County out in force with more than 1,500 walkers to face the heat of the day. The event raised more than $190,000 exceeding the total raised in 2011 by over $80,000.
Sarah Pizzaruso, Development Manager for the Orange County and the Inland Empire says, "Our Walk event is so unique with our "festival of wishes" atmosphere, and we look forward to making it even bigger and better next year!"
Morgan Drexen provides integrated systems for law firms across the nation allowing automation to save both time and money.
"I am so thrilled to be involved with the Make-A-Wish® foundation for the second year it seems as if our team grew tremendously this year. I am lucky to work for such a large company that cares," says Morgan Drexen Visual Design Director Steve Schebesch.
Morgan Drexen in addition to being a sponsor again this year for the annual Walk for Wishes in Orange County was also presented with a wish plaque.
"In the past three years it has given the employees of Morgan Drexen great pleasure to support a child's wish," says Morgan Drexen Director of Strategic Planning Susan Muzila.
This year it was the wish of Mathew K. who after receiving radiation therapy wished for a Disney cruise, thanks to the events of the many sponsors and walkers Mathew's wish came true.
By using complex automation provided by Morgan Drexen law offices throughout North America can spend less time doing paperwork and more time helping consumers.
Please visit http://www.wishocie.org for more information about Make-A-Wish Foundation of Orange County and the Inland Empire.