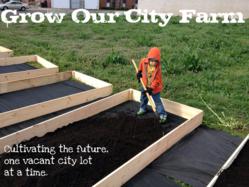 I see a future where, as an urban consumer, I can walk to my local farmer and actually see where my food comes from. That's huge.
Saint Louis, Missouri (PRWEB) April 26, 2012
The Villarreal Family is the driving force behind Grow Our City Farm, a project on the crowd-funding site Kickstarter. Jeri Villarreal, owner and urban farmer has already begun work at the proposed farm site with a crew consisting of her husband Carlos, three young children, nephews and cousins. She hopes to transform this former blank space into a beautiful and bountiful landscape which provides naturally-grown, heirloom produce and farm-fresh eggs to the surrounding community.
As is the way with Kickstarter.com, project pitchers have a set number of days to raise all of their proposed funds, or the project receives nothing. Grow Our City Farm has a 21-day fundraising window. If the stated goal ($6,500 US) isn't met before May 18, all pledges are canceled and the farm's project will not be funded. They set up the website http://www.HelpOurCityFarm.com to direct potential project backers to their Kickstarter funding page.
The Villarreal's plan not only to cultivate the land on Delmar Boulevard, they also plan to cultivate minds in the community. Our City Farm will host free workshops aimed at educating the community about naturally-grown produce, cooking heirloom vegetables, growing in small spaces, keeping chickens and other sustainable practices. Additionally, the farm will host interns every year that will learn the farm's specific growing practices and will receive guidance in starting their own urban farms. When asked how she sees the future of farming, Jeri Villarreal replies, "I see more options for the consumer in the future. I see a future where, as an urban consumer, I can walk to my local farmer and actually see where my food comes from. That's huge."
Our City Farm plans to have over 50 raised beds, growing Certified Naturally Grown (CNG) heirloom produce. The new site will also feature a small farm store, outdoor learning pavilion and small flock of chickens. Our City Farm will continue their Community Supported Agriculture (CSA) program at the city location, however they hope to expand it and provide discounted CSA shares to families that demonstrate a financial need.
Our City Farm has already begun installing raised beds on the lot and planting in the beds. The entire family is getting into the act with their children helping to plant seeds. Jeri and Carlos hope to inspire a generation of young farmers, starting at home.
With just two weeks left to meet their project funding goal, Jeri Villarreal says their family spends their free time refreshing their Kickstarter project page in hopes that the total increases. "We've seen very successful Kickstarter projects that are funded at 515% of their goal, such as Window Farms Vertical Food Gardens" says Villarreal, "We just want meet our goal so we can start growing for our community."