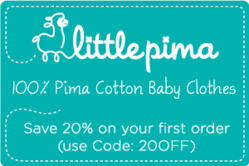 As a parent we always try to get the best for our kids and clothes is not the exception
Miami, FL (PRWEB) April 26, 2012
After many months of hard work researching, testing and listening to what proud parents wanted to see in baby clothing, http://www.littlepima.com is officially up and running and things are going great right out of the gate! All products are made from pima cotton which is hypoallergenic, ultra-soft, holds color amazingly and doesn't produce lint - a winning combination for your delicate baby's skin.
It has been a long, but rewarding process getting the website up and running to best showcase this great inventory of pima cotton baby clothes, but good things come to those who wait.
So please have a look around this brand new website, check out some of the cute, comfortable and affordable pima cotton baby clothes Little Pima carry, learn a little bit more about the benefits of pima cotton over other materials, and of course, say hi! Little Pima will love to hear from everybody, from questions about pima cotton to those happy customers just sending picture of how cute every little bundle of joy looks in something found on http://www.littlepima.com
Little Pima is so excited to be sharing such amazing products with the world and hopefully putting a smile on both parents and baby's.
Keep up with Little Pima latest news, specials and contests by http://www.Facebook.com/littlepima and (Twitter) @LittlePima