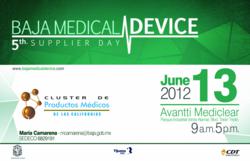 Tijuana, Baja CA (PRWEB) April 25, 2012
On June 13th, 2012 Tijuana will host to the 5th edition of the Baja California Medical Device Supplier Day, an event organized by the Baja Medical Device Cluster, the State Government of Baja California and Tijuana's Economic Development organizations. This year's venue will be the new Avanti Mediclear state of the art facility, the first e-beam sterilization operation in Tijuana.
The event will feature "Business to Business" meetings to integrate companies with Baja's Medical Supply Chain, with over 400 face-to-face estimated interviews. Participants will enjoy presentations by some of the top global leaders in the medical device industry, and exhibition that will showcase all the products and services manufactured in the region. For accredited suppliers, on June 12th the Tijuana Economic Development Corporation (Tijuana EDC) will be hosting a private tour of top medical device operations in Tijuana that will provide participants an inside look at the world class facilities where cutting edge medical devices are manufactured and sent directly to customers all over the globe.
The main goal of the Medical Supplier Day event is to create an opportunity for Medical OEMs and prospective suppliers to network and discuss further integrate the Medical Device value chain in the region and increasing their competitive advantages.
Baja California has gained international recognition as a leading hub for Medical Device manufacturing having the largest dedicated workforce in North America. Companies such as Carefusion, Medtronic, Covidien, Smiths Medical, NxStage and Nypro Healthcare have been thriving and expanding their capabilities in Tijuana for over 20 years. There are over 60 Medical Device companies in Baja California which represent more than half of the industry's presence in Mexico. The State's strategic location with immediate access to California and the West coast of the United States give it a unique competitive advantage over other Medical Device hubs. In the last 10 years direct employment has doubled from approximately 17,000 in 2002 to more than 30,000 in 2011, and the trend is expected to continue thanks to new companies arriving in Tijuana such as Össur and Fisher & Paykel Healthcare and the expansion of many other companies already operating in Baja.
The Tijuana EDC and the Baja Medical Device Cluster have worked hand in hand to promote this growing sector by attracting investment into the region enhancing the existing supplier base with specialized services such as sterilization and high precision machining.
The Tijuana EDC is a private nonprofit organization dedicated to helping companies establish successful manufacturing operations in Tijuana, Mexico. Our soft landing services facilitate quick and efficient start up´s. For more information on how to take advantage of these opportunities contact the Tijuana EDC at contact(at)tijuanaedc(dot)org or visit their website http://tijuanaedc.org/