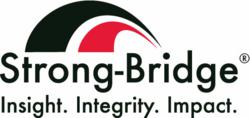 Seattle, WA (PRWEB) April 24, 2012
Clark Collins, head of the Marketing Solutions practice at Strong-Bridge, has been selected through an extensive nationwide search to be Chief Marketing & Communications Officer at UW Medicine. Collins brings a broad range of marketing skills and experience to his new role. He's held senior posts at Fortune 500 and private companies across multiple industries including, financial services, publishing, hospitality, advertising and management consulting.
Strong-Bridge and its affiliate, Flexource, extend heartfelt congratulations to both UW Medicine and Clark and wish them tremendous success.
About UW Medicine
UW Medicine trains health professionals and medical scientists, conducts research to improve health and prevent disease worldwide, and provides primary and specialty care to patients throughout Seattle/King County and the WWAMI (Washington, Wyoming, Alaska, Montana and Idaho) region. UW Medicine includes: Harborview Medical Center, Northwest Hospital & Medical Center, Valley Medical Center, UW Medical Center, UW Neighborhood Clinics, UW Physicians, UW School of Medicine and Airlift Northwest. UW Medicine also shares in the ownership and governance of the Seattle Cancer Care Alliance with Seattle Children's Hospital and Fred Hutchinson Cancer Research Center and shares in ownership of Children's University Medical Group with Seattle Children's Hospital.
UW Medicine has major academic and service affiliations with Seattle Children's Hospital, Fred Hutchinson Cancer Research Center, the Veteran's Affairs Puget Sound Health Care System in Seattle, and the VA Hospital in Boise, Idaho. The UW School of Medicine has been ranked No. 1 in the nation in primary-care training for the past 19 years by US News & World Report. It is the top public institution for receipt of biomedical research funding from the National Institutes of Health (NIH) and second among all institutions for NIH funding, public and private. UW Medicine's 2,000 full-time faculty and nearly 5,000 volunteer and part-time faculty include four Nobel Laureates, 33 members of the National Academy of Sciences, and 33 members of the Institute of Medicine. For more information, visit UW Medicine. Follow us on Twitter - @UWMedicineNews
About Strong-Bridge
Founded in 2003, Strong-Bridge is a management consulting firm serving the telecommunications, technology, healthcare, and retail industries. We work collaboratively with our clients to help them design and deploy new strategies, business models, and processes that deliver improved customer experiences and high quality products and services. With offices in Seattle and Toronto, Strong-Bridge consultants share the company's commitment to delivering 100% client value, serving a host of Fortune 500, mid-size, and startup clients worldwide.
Visit the company online at http://www.strong-bridge.com