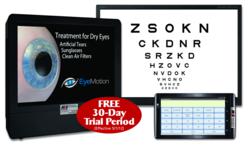 This technology further differentiates M&S from others in the industry selling static eye charts that simply replace the manual projector.
Skokie, IL (PRWEB) April 26, 2012
M&S Technologies, the first name in computerized vision testing systems, is pleased to announce that the Smart System® product line is interfaced with the EyeMotion patient education system. The EyeMotion patient education system offers excellent content, efficiently priced packages and nominal annual licensing fees. The most attractive part of this integration is that there's no expense of an internet connection and subscription pricing is less expensive than other leading brands. The system interface can be controlled with any Smart System input device such as the wireless remote control, wireless tablet or illuminated key pad.
Effective May 1, each Smart System shipped will offer a free 30-day trial period with the EyeMotion package.
About M&S Technologies:
Founded in 1990, M&S Technologies is a software company specializing in visual testing systems and dedicated to developing the very best products for eye-care professionals, optometry schools and universities, and products used in clinical trials. To date, over 20,000 systems are in use across 39 countries with a growing network that includes 23 distributors and several strategic industry alliances. Superior service, industry-leading technology and products that define the cutting edge have been the hallmarks of M&S for over 20 years.
For more information, please call (847) 763-0500 or email sales(at)mstech-eyes)(dot)com.