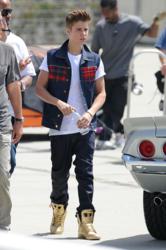 Los Angeles, CA (PRWEB) April 25, 2012
18 year-old Canadian pop sensation, Justin Bieber, has taken the world by storm ever since being discovered in 2008 by manager, Scooter Braun, of Raymond-Braun Media Group (RBMG). He continued his pursuit of greatness by filming his "Boyfriend" music video of the top rooftop of a parking garage in Downtown Los Angeles.
Bieber has earned several awards, such as Artist of the Year at the 2010 American Music Awards. He has been nominated for awards such as Best New Artist and Best Pop Vocal Album at the 53rd Grammy Awards. To date Bieber has sold more than 8 million albums worldwide.
Bieber's first single, "One Time", and the album, "My World", was released in 2009, and was soon certified platinum in the United States. He became the first artist to have seven songs from a debut album chart on the Billboard Hot 100. In March 2010, Bieber's first full studio album, My World 2.0, was released and debuted in the top ten in several countries, and was certified platinum in the United States. The album's greatest hit and music video "Baby" is currently ranked as the most viewed and most discussed YouTube video in history. In November 2011, Bieber released his second studio album, "Under the Mistletoe," which debuted at number one on the Billboard 200.
In early 2012, Bieber released his debut song "Boyfriend" from the album "Believe," which will be released mid-summer. On Saturday, April 21, Bieber hit the rooftop of a downtown Los Angeles parking garage for a long day of filming the video for the #1 hit. It wasn't long after his arrival to set, that fans and paparazzi swarmed the area, stood on ledges and balconies to snap a good photo of the pop prince.
Some of those on set for the making of the "Boyfriend" music video were his manager Scooter Braun, bodyguard Kenny Hamilton, dancer choreographer Jamaica Craft, Director X, Justin's girlfriend, pop star, Selena Gomez, Herman Flores from Dub Magazine, actress Ashley Benson, West Coast Customs founder, Ryan Friedlinghaus, celebrity booking agent, Ryan Totka and stunt coordinator TJ White who provided the car stunts for the upcoming video.
T-Minus Productions' Stunt Department brought in Stunt Coordinator, TJ White, to design and over see the safety for the high octane stunt driving needed by renowned music Director X and DNA Productions. TJ has worked with X on Ricky Love and Usher music videos, using expensive cars and fast driving in tight, enclosed spaces. TJ expressed, "X is a great director. He knows what he wants and is passionate about it looking exciting and authentic." This is the second time TJ has worked with Justin. Previously, he stunt coordinated the video for Chris Brown featuring Justin Bieber for the hit song "Next to You." In this current video for Bieber's single "Boyfriend" TJ said, "We did more dynamic stunts and really showcased precision stunt driving and drifting. I think after this video Justin will be ready to do the next Fast and Furious film."