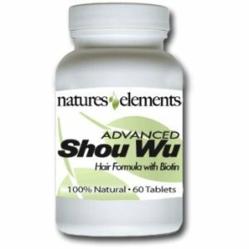 I started taking Fo-Ti 17-18 years ago and only stopped once for 3 months, then started again. Through Canadian Dr tests I have the best ever seen good and bad cholesterol – bone density tests above average and 60+ with very little gray hair. - Mary Lou
Lindenhurst, NY (PRWEB) April 25, 2012
Four things to know when buying He Shou Wu; observe the label and dosage information listed in the supplement facts. Look out for proprietary blends that do not disclose how many milligrams of He Shou Wu is actually contained in the product. Check to see if the bottle contains a 1 month supply. Lastly, check to see how potent the He Shou Wu is, the higher the extract ratio the more potent and concentrated it is. For more detailed information click here.
Natures Elements has provided customers with He Shou Wu for years with continued success. Advanced Shou Wu is an enhanced version of the original best selling He Shou Wu. It contains 10 additional hair nourishing vitamins, herbs and minerals including Bioperene (black pepper extract), which helps the absorption of the Fo-Ti Root. Bioperene allows each ingredient to perform to its fullest extent and provide maximum results. Other ingredients and their benefits along with more reviews and success stories can be found at http://natureselements.net/Advanced-Shou-Wu
Advanced Shou Wu has long been accredited for its ability to nourish the liver and kidneys providing a better blood flow to the scalp thereby stimulating healthy hair. Not only will Advanced Shou Wu help put an end to graying hair, but this amazing herb has additional benefits, including lowering cholesterol and blood pressure to name a few. Natures Elements has stated that a good portion of their customers have been on He Shou Wu long term because of the herb's amazing benefits, making Advanced Shou Wu a tonic worthy of taking for the rest of one's life.
Natures Elements, a high quality vitamin and herbal supplements retailer, is committed to research and offering customers superior formulations that provide real results.