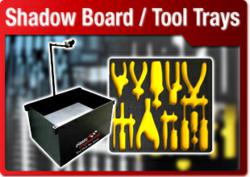 New FOD Tool Trays using Stata-Cell and Stata-lene liners last up to 10 years.
Tempe, AZ (PRWEB) April 26, 2012
Plastic Engineering has developed an alternative tool tray designed to last longer and end FOD issues. These trays have insets made of two new materials called Stata-cell and Stata-lene. These rigid materials are designed to last up to 10 years, and also withstand all types of environments, including areas that are sensitive to electrostatic discharge or even clean rooms.
The system that has been designed by Plastic Engineering features a camera light box. The machinist simply lays out his tools inside the box, and the tray layout is captured on camera. From this point, Plastic Engineering converts the photograph into a full production tool tray. All of this is achieved without the customer sending any tools outside of their facility.
Along with being more durable than traditional trays, Plastic Engineering's trays cost about $20 less than the ones that have been on the market for the past 30 years, says Trent Powell, Vice-President of Sales. Powell estimates that the initial cost of the trays combined with their long shelf life can cut customers' tool tray storage costs in half.
Decreasing foreign object debris (FOD) is a constant challenge in MRO (Maintenance Repair and Overhaul), and industry experts say that left-behind tools cause approximately $5 billion in damage to avionic parts each year. Surprisingly, organization methods intended to solve the FOD problem can generate some of the most troublesome issues.
The foam tool trays used to ensure that parts are returned after a repair are one source of FOD. Until recently, these foam trays, also known as shadowboards, have been a primary solution for tool control. They come with several disadvantages. Machinists must cut every tool-housing with an X-acto knife by hand; it takes four hours on average for a machinist to complete one tray. That's about $100 of labor up front, according to a recommendation letter from Raytheon. If MRO facilities solicit outside help to make these trays, it can take 4-6 weeks for tools to be returned. And, foam trays must be replaced each year due to deterioration – and the bits and pieces of carved-into trays that precede it- can produce FOD-related risks.
Disorganized tools and materials can present FOD problems. If the technician on task has all of the pieces he needs assembled in one place to start and can easily take inventory of them again after he is finished, he will be less likely to leave something behind. Advanced IT systems also help to ensure that tooling is returned to its place once technicians accomplish a task.
The new Plastic Engineering FOD Tool Tray lasts 10 times as long, with a lower start up cost. Customers have haled this development a significant advance in reducing Foreign Object Debris costs in the aerospace, defense and related industries.
More information about FOD Tool Control is available on the Plastic Engineering website at: http://www.plasticeng.com. or by calling them at 480-491-8100.