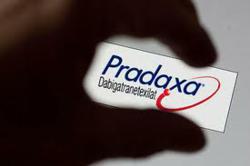 (PRWEB) April 25, 2012
A recent study published by the Archives of Internal Medicine warned that the anticoagulant Pradaxa presents serious risks of heart attacks and excess bleeding. An anticoagulant is a drug that prevents clotting of the blood. The Food and Drug Administration (FDA) approved Pradaxa for use in March of 2008. The listed uses were for patients who suffer from a heart rhythm ailment called atrial fibrillation or joint replacement surgeries.
Attribution: AOIM Article
Atrial fibrillation is a common type of irregular heartbeat. It begins in the atria of the heart and generally means that the heart is not beating regularly which results in a decreased blood pumping efficiency. Generally with atrial fibrillation, the valves of the heart are all pumping at the same time rather than in rhythm with one another. This results in the heart valves being overwhelmed and a decrease in the amount of blood that is pumped efficiently.
Anticoagulants are prescribed to reduce the risks that the person will suffer from blood clots or a stroke, but they do not eliminate the risk. Typical anticoagulants that are prescribed are Pradaxa and Warfarin, to name a few. These drugs are not without risk. Pradaxa specifically has been found to have many side effects including nausea, stomach pain, diarrhea, allergic reaction, joint pains, dark urine, bleeding and heartburn. Recent studies have also illustrated that Pradaxa increases the risk of heart attack and excess bleeding.
Studies have shown that there is a 33% increased risk of suffering a heart attack for individuals taking Pradaxa rather than Warfarin (Coumadin) in treating their case of atrial fibrillation. There is also a risk of excess bleeding when using Pradaxa. These risks are extremely important. The risk of excess bleeding is different from the risk with other anticoagulants because there is no drug to reverse the effects of Pradaxa. With Warfarin, a reversal drug can be administered if it becomes evident that the effects are too strong for the patient, but there is no such drug for Pradaxa.
The FDA launched an investigation in December of 2011 to determine whether Pradaxa in fact does create more of a risk of heart attack or excess bleeding than Warfarin. Despite these risks, healthcare professionals continue to prescribe the drug for its benefits, not only to patients who suffer atrial fibrillation, but also to those who have had joint replacement surgeries. Researchers and experts continue to warn physicians to be cautious in prescribing the drug due to the recent findings. Patients who have taken Pradaxa and have suffered from a heart attack or serious bleeding episode may qualify to file a lawsuit with a Pradaxa Lawyer against the manufacturer of the drug. Many deaths have been recorded and the drug has been shown to cause brain bleeds, intestinal bleeding or other excess bleeding complications.
RI Pradaxa Lawyer
d'Oliveira & Associates: 390 Broadway Providence, RI 02909 - (401) 831-8600