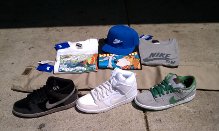 "May 2012 Nike SB Dunk low's, Mid's, Janoski's and Dunk High's are a terrific mix of fabric and colors. Hit up the white Dunk High's and break out the sharpies."
Annapolis, MD (PRWEB) April 26, 2012
Nike Skateboarding has always been a mainstay at Pure Board Shop. The styles reflect the time frame and season of their release, bringing the Annapolis, Maryland based shop and the surrounding area a continuing style.
This month, the Dunk takes center stage at Pure, as there are new versions of the Low, Mid, and High cuts. Between these three shoes, there is a large contrast of color and material; the canvas laden white Dunk High has quite the difference from the Dunk Mid in iron grey and black, which boasts a suede and leather combination. For those interested in a bit more color, the Low features the stone patterning with green highlights and a splash of red to give a nice off-color touch.
However, the Dunk is not the only model that Pure will be carrying this time around. New versions of the Koston and Janoski will be available in similar cool colorways of grey and white, respectively. The bigger news on these two shoes, though, is that they will be some of the last to feature the iconic SB logo, as Nike moves some models into wider distribution; the Dunk will remain untouched.
To accompany the footwear for May, Pure also stocked up on some Spring essentials. Expect to find plenty of tee shirts, tank tops, khaki pants, and snapback hats on the shelves next to these shoes. Plenty of color in the apparel will offset the classic look of the footwear that will be heading this season's style at Pure.