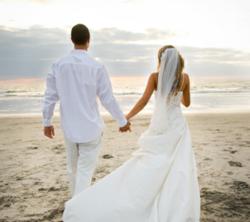 Miami, FL (PRWEB) April 28, 2012
iWedPress.com is a website service that allows couples to build wedding websites easily with unlimited pictures, videos, web pages and much more. The service is a wonderful way for couples to create, organize and share their wedding plans with online friends and families. A 14 day free trial of the website is available for all users.
The "Try It Now" promotion shows couples just how easy it is to set up their wedding website with iWedPress. The setup process takes only about five minutes and consists of one simple step. During the setup process, couples can customize the themes, colors, fonts and photographs that will appear on the page to suit their own tastes and interests. As a result, iWedPress wedding websites are one-of-a-kind experiences for those who visit them.
With iWedPress, it is easy to manage, monitor and assign administrators who can make changes to the website. Couples can also control who accesses their wedding websites by adding password protection if they wish.
Friends and family members have the ability to create their own profiles, and once they are registered with the site, couples can use these profiles to keep in close contact through e-cards and updates. Users with profiles can also add photographs to fill up the couples' albums. These happy moments can be posted directly on any social bookmarking webpage. Also, it is very easy to organize and add descriptions for every photo and for the main pages of albums.
To help couples keep their guest lists organized, iWedPress.com websites help couples track the RSVP statuses of their guests online. Merging a wedding site with a Wedding Social Network allows the member to join other websites and get website news and feeds.
To try iWedPress now, couples need to sign-up. Registration is easy; simply fill in all the mandatory fields and submit the form online. Web users who would like to have more information about trying iWedPress now can visit http://www.iwedpress.com/.