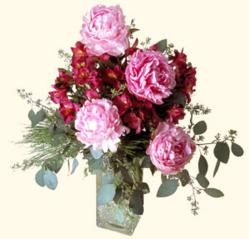 The Peonies (they were so exotic and lovely) lasted over 3 weeks and then I just added other flowers to the vase and the Peonies dried so beautifully! I plan to use them in a dried flower arrangement! I just love this club.
Lake Forest, CA (PRWEB) April 25, 2012
Friends and loved ones will cherish a membership to the Fresh Cut Flower of the Month Club. Memberships are completely customizable-ranging from 2 months and beyond and can be paid monthly or in one installment. Customers can also choose the frequency of their monthly flower delivery including consecutive months, every other month, or every three months.
Each month members receive an exotic arrangement of seasonal flowers and decorative greens. The bouquets are hand-selected by experienced floral consultants for beauty, fragrance, durability and long vase life. Only the highest quality blooms from the most reputable growers are purchased, and flowers are received in-house within in a day of being cut. The blooms are then shipped to each recipient in an insulated box via Next Day Express. The stems are cut early, ensuring that blooming occurs within three days of receipt and extending the life of the arrangement. On arrival, simply place the bouquet in a vase of water and add the two packets of flower food.
The Fresh Flower of the Month Club provides added value with the engaging and informative newsletter that accompanies each month's gorgeous offerings. The history, origin and legend surrounding each blossom, as well as tips on growing and arranging make this gift as useful as it is breathtaking.
This month, in celebration of spring and the arrival of warmer weather, the club is featuring a varietal that grows well in tropical climates. With 1400 different species, the Protea presents a wide assortment of shapes, textures and hues, and this bouquet includes a selection of the most jaw dropping. Anyone viewing this lovely arrangement will doubtlessly be transported to the sun-drenched locales it evokes, while simultaneously appreciating the Protea's unique allure.
This combination of tropical beauties includes Vlam Cordifolium and Veldfire Pincushion Proteas, Latifolia Eximia Proteas, tri-color Hala leaves, a fan of palm, and a branch of Curly Willow. The blooms range in size from two to twelve inches and the vibrant shades with cool green accents are sure to bring paradise indoors.
Taking center stage is the breathtaking Latifolia, also known as Pink Ice. Thick and sturdy petals in a delicate baby pink hue grow up around a composite flower head. The Latifolia is a hardy blossom and is therefore one of the easiest to grow.
Although Pink Ice might be the first bloom to catch the eye, its supporting cast certainly doesn't consist of wallflowers. The yellow Veldfire Protea—known as a composite flower due to multiple floral clusters at the end of each stem—evokes a pincushion, giving it its distinctive nickname. The radiating pattern of its petals and its brilliant shade give a sunny aspect to the arrangement. Add to that the orange Vlam Protea and you have a complete island sunset. The beautifully striped Hala leaves from Hawaii and the driftwood-like Curly Willow create a lovely contrast.
The Protea has a history as interesting as its flamboyant spiny appearance, and this month's newsletter doesn't disappoint. It traces the Protea's origin back 300 million years and offers interesting lore on the Greek God after whom the flower was named; to cite just a few of the fascinating facts that make the Flower of the Month Club such a great investment.
As one happy member is quoted as saying, "I received my first bouquet in December (The club was my favorite gift!), and I carefully followed your instructions about how to care for my flowers to extend their life. Well, the Peonies (they were so exotic and lovely) lasted over 3 weeks and then I just added other flowers to the vase and the Peonies dried so beautifully! I plan to use them in a dried flower arrangement! I just love this club."
For more information about the Fresh Cut Flowers of the Month Club, visit http://www.FlowerMonthClub.com or call 800-625-8238.
About Us:
Established in 1994, The Fresh Cut Flowers of the Month Club is just one of the six gourmet monthly clubs owned and operated by C&H Clubs USA. With almost two decades of delivering gourmet products right to their customer's door steps, C&H has earned an A+ Better Business Bureau rating and a loyal customer base.