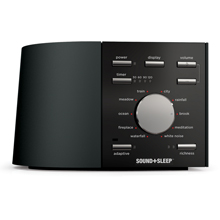 CAMPBELL, Calif. (PRWEB) April 26, 2012
Adaptive Sound Technologies, Inc. (ASTI) is proud to announce that its product, SOUND+SLEEP™, an Adaptive Sound™ sleep machine, designed to help people fall asleep naturally and drug-free, is now a room amenity at the prestigious Hotel Drisco. The Hotel Drisco is located on Pacific Avenue atop San Francisco's charming Pacific Heights neighborhood.
"The guest experience is paramount at the Hotel Drisco. We originally ordered five SOUND+SLEEP units to offer to the occasional guest who told us they were experiencing trouble sleeping," said John Spear, General Manager of Hotel Drisco. "We received such wonderful feedback that we quickly decided to purchase a unit for each guestroom in the hotel. Hotel Drisco is known for its highly attentive and personalized service and for the many thoughtful "little touches" that set us apart, so the SOUND+SLEEP units were a perfect fit for us."
Insomnia is a top complaint among travelers, and with over half a billion people in the world suffering from occasional or chronic sleep disorders many people turn to prescription or over-the-counter sleep aides for help while away from home. SOUND+SLEEP is a natural solution with scientifically-engineered features, which allows hotel guests to relax and gain the replenishing rest their mind and body crave.
SOUND+SLEEP utilizes patented Adaptive Sound™ technology that "listens and responds" to each user's background sounds and adjusts the volume of the machine accordingly to mask unwanted and disruptive ambient noises. By featuring real-time compositions using high-definition, mostly natural sound recordings, ultra high-quality SoundStories are produced with no noticeable repetition. The small machine fits perfectly on a nightstand and is easy to operate.
"We are excited to have SOUND+SLEEP in every guestroom of the Hotel Drisco. For a variety of reasons sleeping can be challenging in a hotel room. Accordingly, ASTI has been getting a lot of traction within the hotel industry recently," said Sam Nicolino, president and CEO of Adaptive Sound Technologies, Inc. "With hotel noise ranging from television sets, elevators, and hallway chatter, SOUND+SLEEP is an ideal solution for hotels that want to ensure their guests get the most out of their stay."
Many hotel guests find that they have a hard time 'turning off' their brain at night; SOUND+SLEEP addresses that issue by helping people fall asleep, naturally. Ideal for hotel rooms, bedrooms or the office, the attractive SOUND+SLEEP offers eleven distinct sound profiles to promote a deeper sleep, relaxation and renewal for the day ahead. The machine runs all night or turns off automatically with a timer. Sound profiles include: White Noise, Electric Fan, Waterfall, Meadow, Brook, Rainfall, Ocean, Train, Fireplace, City and Meditation. SOUND+SLEEP is available online at http://www.soundofsleep.com or direct by calling 1-800-502-3815. The suggested retail price is $129.95.