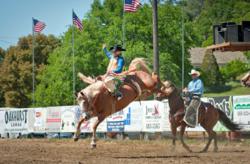 "It's one of the prettiest rodeo sites in all of California and quite possibly beyond. I guarantee you'll be hard pressed to find a more scenic site for such a great event."
Coarsegold, CA (PRWEB) April 24, 2012
Since 1952 the Coarsegold Rodeo has been entertaining families with the thrills and spills of Pro Rodeo action as the historic event marks 60 years.
The rodeo runs for 3 days kicking off on Friday, May 4 with Heritage Days. Local school children will be able to join in the fun by making crafts and watching various riding demonstrations. In the afternoon, the Rodeo Royalty hopefuls will ride and conduct interviews with the judges starting at 6 pm.
Rodeo action goes in to high gear on Saturday, May 5 and carries through on Sunday at the Bohna Arena on Road 415 in Coarsegold.
"It's one of the prettiest rodeo sites in all of California and quite possibly beyond," said Jarrod Lyman with the Yosemite Sierra Visitors Bureau. I guarantee you'll be hard pressed to find a more scenic site for such a great event."
Gates open at 10 am, and guests are encouraged to come early to choose a great seat. A full day of family fun can be had for a small cost; children under 12 are only $5 and adults are only $10 per person
Little cowboys and cowgirls can try their hand at a mechanical bull and enjoy various inflatables. They will also be able to cheer on fearless bronc and bull riders, talented calf ropers, brave steer wrestlers, skilled team ropers and speedy cowgirl barrel racers.
Everyone will laugh and applaud the adorable little mutton busters while chowing down a famous Indian Taco or tasty BBQ tri-tip sandwich. Hot dogs, cotton candy and best-of-all, snow cones provided by and benefitting the Coarsegold 4-H Club are always on hand along with ice cold beverages that can be purchased at one of the many food booths.
Other kids activities include the Exception Kids Rodeo starts at 10 am, while at noon A Grand Entry Procession lead by this year's Grand Marshall, Rachel Boswell. The CCPRA Pro Rodeo beginning at 1:00 pm.
Night time entertainment includes local DJ Terry Naracon from TC Tunes who will play the Country Western and Southern Rock hits for the "Dance Under the Stars" which begins at 8 pm and runs until 11 pm.
Beginning early on Sunday morning, May 6, is a Cowboy Breakfast and at 9:00 am. The public is invited attend for Cowboy church.
High Noon begins the Grand Entry and Crowning of Rodeo Royalty by last year's 2011 Rodeo Queen, Alexia Arietta. Rodeo action resumes at 1 pm.
For information and/or interview opportunity regarding the history of the Coarsegold Rodeo, please contact Tom Bohna directly at tbranch(at)sti(dot)net
2012 Rodeo Royalty Contestant information and photographs may be found at: http://thecoarsegoldrodeo.com/royalty.html
For Specific kinds of Rodeo Photography (ie., bulls, broncs, mutton busters, Exceptional Kids), please contact Susanne Updike-Waite, Coarsegold Rodeo Photographer with your request to obtain large format digital images emailed to you: tswaite(at)psgins(dot)com or 559 447 1944
For further information visit the Coarsegold Rodeo website at: http://www.thecoarsegoldrodeo.com