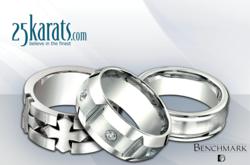 Believe in the finest!
New York, NY (PRWEB) April 25, 2012
When it comes to wedding bands, most people tend to think about what the bride will wear. But now men can enjoy the thrill of choosing among contemporary yet classic wedding bands, thanks to 25karats.com's new Benchmark collection.
Regarded as one of the top wedding band manufacturers in the United States, Benchmark is renowned for offering classic wedding band styles in contemporary metals as well as precious metals. By partnering with Benchmark, 25karats.com is determined to offer their clients a broader choice of beautiful wedding jewelry in distinctive metals.
"This new collection is a very special addition for 25karats," says Matt Aksu, CEO of 25karats.com. "After all, brides-to-be shouldn't be the only ones to enjoy the thrill of shopping for their wedding rings!"
The new wedding band collection offers more than 300 styles in various stunning metals, including titanium, cobalt, seranite, argentium silver, sivold, gold, platinum and palladium. This new launch is a welcome addition to 25karats' current collection of over 10,000 wedding bands, with 14K, 18K yellow and white gold, platinum, and palladium. Experts are forecasting that the Benchmark collection will increase the sales by up to 20% during the 2012 wedding season.
"We expect to see such a boost in sales because the price of gold is skyrocketing," Aksu points out. "Not only are contemporary metals an affordable alternative, but they're very trendy and cool as well!"
Fans of 25karats.com are already lining up to take advantage of the new Benchmark collection with Benchmark's Lifetime Guarantee that provides free sizing for the life of the band. Additionally, 25karats.com is happy to offer all their customers with their famous money back guarantee, in addition to free shipping.
"More choice means that more men will be able to find that perfect wedding band which represents their love," says Aksu. "And at 25karats.com, we're proud to be a part of that special day!"
About 25karats.com:
25karats.com was established in 2008 by a team of experts with many years of experience in both jewelry industry and e-commerce with a simple goal of providing the best online jewelry shopping experience for their customers. By controlling their sourcing, manufacturing, and product distribution, 25karats can bring fine jewelry to the public at exceptional prices while raising the quality bar on the competition.
25karats has offices at the heart of Manhattan's Diamond District, which allows for immediate access to some of the best resources in the jewelry industry, both locally and worldwide.