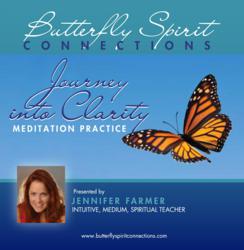 the process of attaining clarity can have profoundly positive affects in all areas of your life, both at home and at work
Dallas, TX (PRWEB) April 30, 2012
Experienced Intuitive, Medium, and Spiritual Teacher, Jennifer Farmer, releases her seventh guided meditation CD, "Journey into Clarity."
The "Journey into Clarity" Meditation Practice CD is designed to help the user navigate their way to the space where they can access total clarity. Farmer quotes, "As we all lead ever busier lives, where the pressures of the outside word, and constant interruptions through email, texts, and modern day technology, it's often hard to be able to think clearly – let alone find a quiet moment in which to think clearly!" Jennifer believes that the process of attaining clarity can have profoundly positive affects in all areas of a person's life, both at home and at work.
Learning to use meditation properly will enable women and men, to find the pathway to higher consciousness, intuition and tap into an inner spirit where clarity can be found. With intuitive clarity, decisions on how to proceed become clearer, and ultimately more confident. Through meditation anyone can gain a clearer sense of direction. With practice, a listener can increase the trust of their inner-spirit and develop the courage to make changes when and where necessary. Decision making becomes easier and has a less traumatic effect on overall well-being.
Jennifer's passion in everything she does is focused on a single premise, namely: It's to empower woman to live and embrace life at their fullest potential. With a sensitive and delicate touch, she has crafted this meditation CD that can help anyone to develop and master intuitive clarity. As she guides the listener though these powerful meditations, they are left with a profound sense of awareness, inspiration and hope.
Journey into Clarity Meditation Practice CD includes:
Track One Introduction from Jennifer 2 minutes
Track Two Clear your Mind Meditation 11 minutes
Track Three Introduction to Clarity Meditation 2 minutes
Track Four Clarity Meditation Practice 18 minutes
Journey into Clarity retails for $24.99 (including shipping & handling) or $19.99 for a digital copy. All of Jennifer's meditation CDs are available for purchase online at http://www.butterflyspiritconnections.com/store.htm.
About Jennifer Farmer
Jennifer is one of the few psychics and mediums, whom have been personally tested by Bob Olson, creator of Best Psychic Mediums.com. She is extraordinarily gifted with the ability to communicate with spirits and psychic awareness. Jennifer's abilities are totally natural, and continue to evolve and strengthen. She is genuine in her concern for the well-being of all her clients. She is sought out by people from all over the world for insights and abilities. She's able to shift and expand the awareness in her clients. This shift is not only healing, but also empowering and life changing. To find out more about Jennifer, visit her website at http://www.JenniferFarmer.com.
About Omni Portals
The Omni Portals Group is a Dallas based advertising agency specializing in web design/development, marketing and branding. They are a group of talented marketers, designers and programmers with more than twenty years of experience in branding.