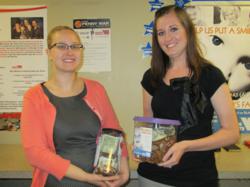 Fargo, ND (PRWEB) April 25, 2012
The total came in Monday morning confirming Onsharp's loss to Western Products and Affiliates during last week's Penny War. But the real winners were the American Heart Association (AHA) and the Make-a-Wish Foundation® who received the proceeds from the competition.
An overhead announcement happened yesterday early afternoon with the totals of the Penny War. Onsharp earned 429 points, but they couldn't beat Western Products' hefty 14,136 points. According to the rules, pennies and paper money counted as positive points, and silver counted as negative. In total, the American Heart Association will be receiving a donation of $73.51 and the Make-A-Wish Foundation® will receive $170.43.
Although Onsharp was winning as of the mid-week count (thanks to a donation of pennies from a Facebook fan), a one hundred dollar bill was dropped into the Western Products' bucket just before the end of the contest on Friday. Congratulations to the AHA and Make-a-Wish foundation on their win! Thank you to all participants who made the donations possible!
Onsharp is an interactive agency that architects, builds, and supports web-based solutions. We're passionate about technology, but not just because we think it's cool. We are experts at helping businesses understand how new technologies and trends can help them meet customer demand while improving productivity. Onsharp strives to create success in the lives of all people, businesses, and communities they serve. For more information about Onsharp, please visit http://www.onsharp.com or call toll-free at 1.866.ONSHARP.