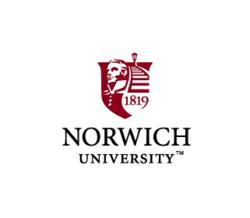 NORTHFIELD, Vt. (PRWEB) April 25, 2012
Norwich University is proud to announce this year's faculty recipients of research funding from the Vermont Genetics Network.
Darlene Olsen, Department of Mathematics, was awarded a Pilot Grant (maximum of $25,000) to investigate how altered cellular pathways may interact over time giving insight to the progression of diseases, described as such:
The objective in time course microarray experiments is to classify and differentiate patterns of genetic variation in gene expression over time. However, the vast amount of information obtained from these technologies poses many statistical challenges and, to date, there does not seem to be a clear consensus on which methodology addresses all these challenges. The objective of the proposed work is to refine the Kolmogorov-Zurbenko Algorithm by incorporating inferential methods to statistically differentiate gene profile clusters and developing a software package to easily implement the methodology to any time course microarray data. This project is a continuation of a work funded by both Norwich University Faculty Development Funds and a previous VGN Pilot Grant.
Megan Doczi, Department of Biology and Physical Education, was awarded a Project Grant (maximum of $75,000) for the following research project on the management of diabetes and obesity:
Hypothalamic neurons integrate peripheral signals that mediate the homeostatic balance between food intake and energy balance. The voltage-gated potassium ion channel, Kv1.3, is expressed in the hypothalamus and has been known to play a role in various metabolic processes including body weight regulation, energy homeostasis, and peripheral insulin sensitivity. My research focuses on the expression and regulation of Kv1.3, which has emerged as a therapeutic target for the treatment and maintenance of various metabolic disorders. This work aims to identify the role of Kv1.3 in the developing avian hypothalamus and provide further evidence targeting these channels for drug development in the management of diabetes and obesity.
Karen Hinkle, Department of Biology and Physical Education, was also awarded a Project Grant ($75,000) for her research relating to cancer:
Working in collaboration with Dr. Bryan Ballif, an Assistant Professor of Biology at the University of Vermont, Hinkle is analyzing the functional role of newly identified phosphorylation sites in the Src-family kinase, Fyn. This protein is implicated in several cancers, and understanding its regulation is important to determine sites for therapeutic intervention. Hinkle and her students will be using in vitro cell culture and whole organismal approaches to testing the function of these novel sites.
About the Vermont Genetics Network:
The Vermont Genetics Network (VGN) is funded by a five-year, $16.5 million award from the National Institute of General Medical Sciences (NIGMS) and is part of a National Institutes of Health (NIH) initiative called IDeA Networks of Biomedical Research Excellence (INBRE). Under the direction of Dr. Judith Van Houten, the VGN, which links scientists at Castleton State College, Green Mountain College, Johnson State College, Lyndon State Colleges, Middlebury College, Norwich University and Saint Michael's College to resources at UVM, is designed to provide funding for research, equipment and technology necessary to enhance competitiveness for national funding for genetics research. Other aims of the project include increasing the number of undergraduates who go on to biomedical careers from the baccalaureate colleges, to provide and support bioinformatics capability in the state, and to increase the diversity of biomedical scientists.
Norwich University is a diversified academic institution that educates traditional-age students and adults in a Corps of Cadets and as civilians. Norwich offers a broad selection of traditional and distance-learning programs culminating in Baccalaureate and Graduate Degrees. Norwich University was founded in 1819 by Captain Alden Partridge of the U.S. Army. Norwich University is the oldest private military college in the United States of America and the birthplace of our nation's Reserve Officers' Training Corps (ROTC). http://www.norwich.edu