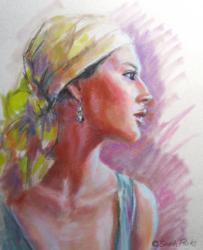 Exhibition Dates: May 1 - June 30, 2012
Virginia Beach, VA (PRWEB) April 25, 2012
The Sandler Center for the Performing Arts Center in Virginia Beach, VA is delighted to announce that Sarah Parks will be exhibiting her paintings for an exclusive two-month engagement in their art gallery. The exhibition will run from May 1 through June 30 with an Opening Reception on Tuesday, May 1 from 6 pm - 8 pm where collectors can meet Sarah in person. Works such as the much-admired "Malena," "The Shawl," "Tang Horse," and "Moonlight on the River" will be featured alongside some new work such as "Caribbean Beauty" and "Italian Girl." While Ms. Parks' work will be featured on the Sandler Center's web site once the exhibition begins, her work can also be seen at her artist web site, http://sarahparksartist.com.
About the Artist
Sarah Parks is an artist who skillfully blends Impressionism with Classical Realism. She received her Bachelor's degree in both Art History and Studio Art from Old Dominion University in 2001. She is a member of the Oil Painters of America, Portrait Society of America, and the American Society of Portrait Artists. Ms. Parks' love of other art genres has motivated her to continually refine her technique through intense study and guidance by some of the foremost landscape, still life, and figurative painters today.
In her exhibition at the Sandler Center Art Gallery, she hopes "to provide not only a clearer, more compelling reality, but the lens through which to view it." Whether it is a portrait, figurative, still life, or landscape, Ms. Parks' aspiration is to capture the perfect play of light, shadow, and color in her paintings.
Ms. Parks' conte drawing "The Shawl" was one of 30 out of 1,100 entries juried into the American Woman Artist Association Exhibit in Pasadena, CA in 2008. Ms. Parks has most recently exhibited at the Richard Schmid Fine Art Auction in Colorado, the Brazier Gallery in Richmond, and locally at Beach Gallery in Virginia Beach, Nansemond Suffolk Academy, and Norfolk Collegiate School. She has also developed an online drawing series, Drawing Secrets Revealed, which received a five-star review from TheDownloadPlanet.com.
About the Sandler Center Art Gallery
The Sandler Center Art Gallery, located on the second and third floor lobbies of the Sandler Center for the Performing Arts, displays local fine artist's work in rotating exhibitions. Exhibitions are juried and interested artists are invited to view the exhibition application at Sandler Center's web site. For more information about the Sandler Center Art Gallery, please visit the Sandler Center Art Gallery's website at sandlercenter.org/index/artgallery.