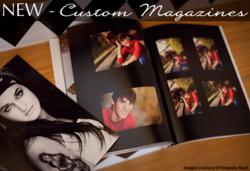 (PRWEB) April 25, 2012
Black River Imaging, a professional photo imaging lab, has updated their Cascade design software to include Custom Magazines as well as greeting cards, promotional materials, albums and books. The software was first introduced in early 2011 to allow photographers to easily design album layouts for the company's five lines of flush mount photo albums. The addition of the Custom Magazine is one of several updates that the company is planning for 2012.
"Custom Magazines are a fantastic economical press printed product professional photographers can offer all their clients," Brandon Hedgpeth, marketing director for Black River Imaging, says, "High School seniors especially love this product, with it's black fly pages where their friends can sign well wishes."
With so many options for customization available, Black River Imaging's Custom Magazines are economical and enduring. They are great for seniors, vacation photos, kids birthday memories, or anything else that needs a place to store memories. Customizable wrap-around photo cover created in Photoshop or another preferred design program. Pages are matte coated. The number of images shown per page is unlimited.
Cascade version 1.4.2 is now available for download at http:// http://www.blackriverimaging.com/order-cascade.asp. The software is free to registered Black River Imaging customers.
Black River Imaging helps professional photographers and those who love photography bring their creativity to life in hand made photo albums, professional photo printing, press printing, gallery wraps, metal prints, and other beautifully crafted photographic products. You can learn more about their products and services at http://www.blackriverimaging.com.
# # #