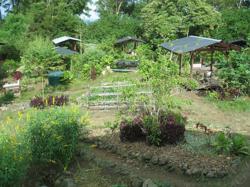 Hilo, HI (PRWEB) April 26, 2012
Recently, Pacific Quest wilderness therapy program held a four day hiring seminar with several applicants and a number of facilitators in the Bay Area. The goal of the event was to move beyond basic phone interviews and create a more interactive interview process, offering prospective staff a hands-on experience of what life at Pacific Quest entails.
Facilitators included Chris Kaiser, co-founder, Oren Grimm, former Field Instructor and Field Supervisor, and Rene Fay, former Field Instructor, Solo Supervisor and current HR Recruiter. The seminar started with an overview of the program, and an opportunity for facilitators to share their own unique and personal experiences with Pacific Quest including facilitator presentations-complete with video footage from the PQ gardens in Hawaii. The seminar also allowed applicants to demonstrate their leadership and teaching skills, providing several opportunities for applicants to showcase their creativity and group interactions.
On the third day, several alumni staff and students shared their experiences with the applicants. Martin Hanson and Gretchen Kryss, both previous Field Instructors, were present and spoke about their stories with Pacific Quest, giving the applicants a better feel for what the Field Instructor lifestyle and community is like.
Most importantly, a student alumnus, who was at Pacific Quest wilderness therapy approximately three years ago, spoke candidly about her experience at Pacific Quest. The past student gave a brief background on the struggles that brought her to Pacific Quest, and how PQ helped her identify her strengths and taught her new tools to face challenging moments in the future. Lastly, the student alumnus shared some of the insights that she learned at PQ and how they are relevant to her life today. At the end of the seminar, it was clear that hearing a student's perspective was the most valuable experience for the future staff.
The seminar not only served as a training and evaluation of potential new instructors, but also a reuniting of the extended Pacific Quest family. Feedback from participants indicates it was a positive experience for all and another step in the continued goal of hiring and training the best staff to fulfill and model the Pacific Quest vision.
About Pacific Quest
Pacific Quest is an outdoor therapeutic program for struggling teens and young adults, located on the Big Island of Hawaii. Their wilderness programs offer a clinical, yet holistic approach to treatment, going beyond traditional wilderness therapy and teaching sustainable life skills. Pacific Quest's proprietary therapeutic model is a groundbreaking approach that uses organic gardening to create concrete metaphors for its students as they cultivate their own health and happiness. Pacific Quest provides an environment that allows for a true discovery process for its students, a place that is safe, structured, experiential and natural. Owned and operated by a veteran team of professionals with hundreds of years of combined wilderness program experience, Pacific Quest offers a unique approach to treatment that is individualized for each student.