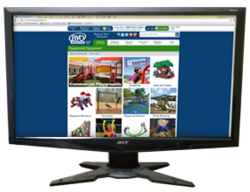 Our commitment to total customer satisfaction continues to drive our decision-making.
Saint Augustine, Fla. (PRWEB) April 24, 2012
BYO Recreation is pleased to announce the launch of its redesigned website at http://www.byorecreation.com. The new website offers customers improved functionality and usability, while featuring a refreshed sleek design. In addition, new social media efforts have been made in order to increase communication between BYO Recreation and their customers.
"We want to continue our focus on the customer experience. Having a website that is easy to use and navigate is essential to heightening that experience," Bill Calhoun, president and founder, said. "When we decided to redesign our website, we solely had our customers in mind. Our commitment to total customer satisfaction continues to drive our decision-making."
This focus on customer experience sets BYO Recreation apart. Not only is the new website easier to use, it includes new and updated features to help customers learn and explore their products and resources. A new BYO Recreation landing page acts as a directory and starting point to begin exploring the website. Their customer gallery has been updated in order to allow viewers to see recent playground projects by date or state and link back to the corresponding playground equipment.
Along with BYO Recreation's website redesign, they have taken new initiatives to reach out to their customers. The new website includes better social media links, a place where visitors can sign up for their revamped monthly e-newsletter and a new company blog that began with the launch of the redesigned website. To increase engagement and social presence, BYO Recreation has become active on Facebook, Twitter, Linkedin and Pinterest. Their social media efforts are a fresh source for news and updates, as well as a new platform for customer service.
"We are always looking to find new ways to reach out to our customers," Calhoun said. "Social media has given us a way to further open up the lines of communication, in turn making the customer experience even better."
Learn more by following the company at http://www.facebook.com/BYORecreationNews and http://www.twitter.com/BYORecreation.
About BYO Recreation
Headquartered in St. Augustine, FL, BYO Recreation is one of the most comprehensive and fastest growing recreational equipment suppliers in the world. Since 1999, the company has helped thousands of schools, churches and communities create recreational spaces that are truly Beyond Your Ordinary. For additional information about BYO Recreation, visit http://www.byoplayground.com.
###