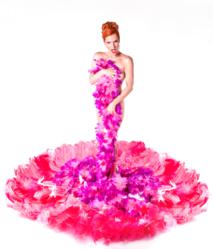 ...she delivers the goods!", says Variety.
New York, NY (PRWEB) April 25, 2012
Experience the art of the tease as critically acclaimed Quinn Lemley stars in her new hit touring production, Burlesque to Broadway. The highly anticipated limited run will be presented two nights only, on May 18th and 19th at 8 pm at Brooklyn's historic Millennium Theater.
Along with sexy sidekicks Natalie Loftin Bell and Stacey Harris -- and a smoking 10-piece big band -- Lemley takes audiences on a journey from the early days of underground burlesque clubs to mainstream acceptance by the Broadway establishment and beyond.
This unique theatrical concert, directed by Tony Award winner Joseph Hardy, honors rule-breaking icons such as Sally Rand, Gypsy Rose Lee, and Mae West, and celebrates their ascent as they danced on the edge of the law, laid bare the double standards of the era, and fueled a movement that would influence divas for the next century.
"When people think of burlesque they often think of striptease," says Lemley, "and while that's certainly part of the fun, the burlesque movement of the 20s and 30s had much broader cultural influence." The savvy women of burlesque drove trends in fashion and comedy, and even served as the launch pad for the television variety show. "From Cher to Lady Gaga, we continue to see the influence of the burlesque movement in everything from music to fashion to dance."
Despite its cultural relevance, this show is no history lesson. Song-and-dance fun fill the theater as the cast belts out unforgettable hits such as 'Hey Big Spender,' 'Let Me Entertain You,' and 'She's A Lady' while they dance to Merete Muenter's provocative bump-and-grind choreography. The costumes of Wendall Goings add to the experience, glittering with sequins and flowing with fans and feathers.
"We're excited to bring this audience-tested show to the Millennium Theater as we continue expanding our repertoire of large, off-Broadway productions," says Dr. Lev Paukman, the theater's owner. This high-energy cultural hub is a quick subway ride from Times Square and a one block walk from the Brighton Beach station. Brighton Beach offers a unique experience in dining, markets, and the Millennium Theatre.
The two-show limited engagement is also something of a tease. Immediately after, Lemley and her girls head back out on the road to continue their successful international tour.
About Quinn Lemley
QUINN LEMLEY is an actress and vocalist headlining major performing arts centers and theaters world-wide. Her New York stage credits include the critically acclaimed starring role in The Heat Is On! A life in concert celebrating Rita Hayworth; Barking Sharks; Sirens Of The Silver Screen; Born To Rhumba!; and Wanda and The King of Hair. She has appeared on "Good Morning America", "Oprah, "Geraldo," and has been profiled by numerous magazines and newspapers. Interviews can be arranged to discuss the historical and modern day influence of Burlesque on iconic figures such as Lady Gaga, Cher, Bette Midler, etc., and the power of women.
http://www.burlesquetobroadway.com http://www.QuinnLemley.com
About the Millennium Theater
THE MILLENNIUM THEATER is a 1,400-seat venue in the heart of South Brooklyn. This historic space has been outfitted with modern sound, multidimensional computerized stage lighting and giant LED screens making it an ideal venue for large-scale concerts and theatrical productions. The theater and its rich history were recently chronicled in an article in the New York Times.
http://www.nytimes.com/2012/03/12/arts/millennium-theater-in-brighton-beach-as-link-to-old-country.html?pagewanted=all