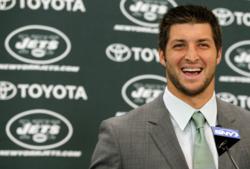 Orlando, FL (PRWEB) April 25, 2012
For some NFL players the off season is a time to kick their feet in the sand, but for some it's a great time to give back to those that watch them every Sunday.
That is exactly what New York Jets quarterback Tim Tebow, Arizona Cardinals wide receiver Larry Fitzgerald and New York Giants wide receiver Victor Cruz will do as the will attending the 19th annual Colonial All-Pro Football Camp on June 24-27.
These three players share a common bond as they are all faces on their franchise as well faces of some major endorsements.
The NY Giants franchise couldn't be happier with the production that wide receiver Victor Cruz brought to them on the field as well as off the field. In 2011, he salsa danced his way to a NY Giants season record of 82 receptions for 1,536 yards. Off the field, Victor Cruz impressed the entire Giants organization by responding to the media during his Super Bowl celebrations on whether his $450,000 base salary was fair. He said he would prefer to focus on football and let his agent to handle the business side.
As for Tim Tebow, The Jets' new face to the franchise, this off-season brought on a new team and new possibilities. It began with The Denver Broncos and John Elway announcing that they will be trading Tim Tebow over to the New York Jets. Tim Tebow took this move in stride and let the media know how "excited" he was by repeating the word "excited" dozens of times during his very first Jets news conference. This excitement appears to be shared among Jets fans as he drew in a crowd of 15,000 Jet fans on Sunday for an outdoor Easter church service.
Time Magazine has recognized his impact and recently announced that Tim Tebow made the cut for the list of the 100 most influential people in the world.
This announcement will further open the doors for corporate America to capitalize on his stardom. Some companies have jumped on board with endorsement deals with Jockey brand underwear, Nike and EA Sports, which add up to bring him roughly $1 million to $2 million a year.
Predictions have recently been drawn that Tim Tebow is worth 10 million dollars a year in just endorsements. These predictions are drawn from his impact on social media (Last year he recorded a peak rate record of 9,420 tweets per second via Twitter) along with his impact on American pop culture (dropping to one knee, elbow bent with forehead resting in hand also known as "Tebowing" has become a household gesture).
Tim Tebow is a marketing potential is just now being surfaced and corporate giants across the globe will soon begin knocking on his door for athlete appearances along with athlete endorsements. It's just a matter of Time before he is ranked as "The most influential athlete in the world."
Written by: Anthony Fernandez
About AthletePromotions.com
AthletePromotions is a sports marketing firm and athlete booking agency securing thousands of athletes for speaking engagements, corporate appearances, product endorsements, autograph signings, spokesperson campaigns, celebrity golf tournaments, VIP Meet & Greets and more. To book an athlete, call us at 1.888.246.7141
Ryan Totka and his team at AthletePromotions have assisted corporations in booking Tim Tebow and many other NFL stars for speaking engagements, corporate appearances, autograph signings and VIP Meet & Greets.