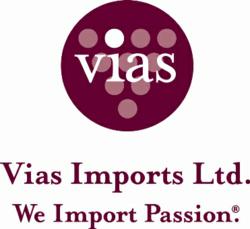 Focused on native Italian varietals, the Vias tasting will feature over 300 Italian wines from 18 regions.
New York, NY (PRWEB) April 26, 2012
On May 7th, the Altman Building will be host to Vias Imports' annual portfolio tasting, which will showcase over 300 Italian wines from 18 different regions.
A celebration of the Vias Imports' diverse portfolio, the tasting will give the trade a chance to try the newest offerings from historical Vias partners such as Argiano and Castello dei Rampolla in Tuscany, Broglia in Piedmont, Dal Forno Romano in the Veneto, Tenuta San Leonardo in Trentino and Terredora di Paolo in Campania. It will also give guests an opportunity to get acquainted with new partners like Nuraghe Crabioni from Sardinia, Principe Pallavicini from Lazio and Strasserhof from Trentino.
Winemakers, winery owners and winery representatives from Italy will be on-hand to present their new products and their latest vintages. Among this year's esteemed representatives will be renowned winemaker Giuseppe Caviola who will present his personal wine line, winemaker Romano Dal Forno from the legendary Dal Forno Romano winery and owner and winemaker Lucio Mastroberardino from the Campanian powerhouse Terredora di Paolo.
The tasting will showcase 2007 Barolo wines, exceptional 2007 single vineyard Barbarescos and the latest vintages from Tenuta San Leonardo, the most decorated winery in Italy. Also making their premier will be the 2007 Brunellos, which Wine Enthusiast's Monica Larner considers a benchmark vintage that may be the region's best vintage ever.
Among the most-anticipated new products making their debut in the American market will be Cantolibro, a Lambrusco with no added sulfites from Tenuta Pederzana.
As always, native Italian varietals will be at the heart of the showcase. Champions of native varietals like Istituto Agrario San Michele will present rare regional varietals such as Teroldego and Incrocio Manzoni, giving guests the occasion to educate their palates on some of Italy's more boutique offerings.
"We spend the whole year sharing the special history and relationship behind each of our wines, and we relish the opportunity to bring our partners and clients face-to-face in order celebrate these unique estates in a dynamic, warm environment," says Vias Imports President Luca Bigerna, "It is a common starting point from which we can all more forward together."
Following the New York tasting, there will be a second portfolio showcase in Seattle at the Fairmont Olympic Hotel on May 10th. Preceding the tasting, there will be a limited-seat seminar on the Cannubi cru in Barolo conducted Giuseppe Caviola.
To RSVP for either tasting or to request additional information, please contact Hilary Ruesch at hruesch(at)viaswine(dot)com.
About Vias Imports Ltd.—http://www.viaswine.com
Established in 1983 as an import company specializing in small, high-quality wineries, Vias Imports Ltd. has grown in most recent years to have broad-based distribution operations that place it among the most renowned Italian wine importers in the US market, boasting one of the most outstanding portfolios in the industry.
Its mission is to educate wine lovers about the wide range of grape varietals from Italy, inviting palates to appreciate the diversity of Italian wine through the enticing experience of food and wine pairing, and guiding them in the understanding of a heritage which is particular to the Italian peninsula.
Today, Vias Imports distributes its wines directly in the States of New York and New Jersey, and nationally through a network of 61 distributors.