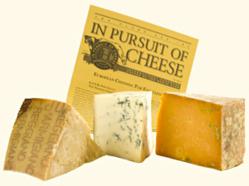 My parents are absolutely delighted with their Cheese of the Month gifts. I'm happy to let you know that they are impressed with the variety and quality of the cheeses -- they've actually requested that this be their Christmas gift every year! Ah, relief!
Lake Forest, CA (PRWEB) April 25, 2012
Membership to an Artisanal Cheese of the Month Club is the perfect gift for the foodie or can be a unique and thoughtful choice for clients, associates or employees. Gift recipients receive three half-pound blocks of cheese varied by milk type, style and country of origin. Each month's cheese gifts are selected for quality and prominence from boutique manufacturers throughout the world.
In every shipment is an informative newsletter detailing the histories and origins of these extraordinary cheeses, as well as tasting notes and production information. The Artisanal Cheese of the Month Club offers selections not easily found—fresh from the farmhouse and produced from raw milk and natural ingredients in an enormous range of textures, tastes and aromas.
Memberships are completely customizable-ranging from 2 months and beyond - and can be paid monthly or in one installment. Customer can also choose the frequency of their monthly cheese gifts including consecutive months, every other month, or every three months.
April's trio of high quality artisan cheeses features a tantalizingly rich cow's milk selection from France, a young and unique goat cheese produced in Vermont, and a sophisticated and slightly nutty German cheese.
Gourmet Cheese of the Month Club pays homage to France and its inspirational cheeses by spotlighting Fromage d'Affinois, a soft-ripened double-crème. A production method known as ultra filtration produces this mild, buttery Brie—both creamy and thick, yet lighter and silkier than most of its ilk. This specialized process removes water from the milk while concentrating and evenly distributing all the other components, including the fat. The result is a taste as luscious as most triple-crèmes, but with the fat content of a double-crème. This method of production retains more protein and nutrients, and the rind adds a sweet finish. Fromage d'Affinois has a freshness that makes it a decidedly different addition to a cheese tray, and served with crusty bread and a sweet fruit spread, it is simply divine. Its mild creaminess makes it an excellent counterpart to a sparkling wine or an apricot-toned viognier; it's also delightful when accompanied by a light red, such as Beaujolais Nouveau.
The second selection, Bonne Bouche, means "tasty morsel" in French. The Vermont Butter and Cheese Creamery won first place at the American Cheese Society competition when they first introduced the hand-ladled and ash-ripened goat cheese in 2001. Vermont Butter and Creamery cheeses are individually packaged in wooden boxes known as "micro-caves." They are young and high in moisture, with delicately sweet and mild rinds. Notes of citrus and hazelnut with a mild floral hint make this cheese well suited for a dry white wine such as pinot grigio or sauvignon blanc. Store your Bonne Bouche in its wooden micro-cave to protect the cheese and to enhance ripening for up to 45 days. During this time it will become softer, the rind drier, and the flavor more provocative.
The third enticing selection is the Mirabo Walnut, blossom-shaped with fine white mold. Made with cows' milk, crème fraiche and finely ground walnuts, this cheese is soft and creamy with an outstanding nutty flavor. This delightful addition to the Artisanal cheese of the month club is produced by Käserei Champignon, a family-owned business and an internationally recognized leader in the industry. Mirabo Walnut is essentially a German Brie—soft and velvety, with mild but sophisticated flavors. Enjoy this cheese at its best by first unwrapping to let it breathe and come to room temperature. Pair Mirabo Walnut with an excellent German Riesling or Gewürztraminer, or with Morio-Muscat and serve as a dessert cheese, drizzled with honey and garnished with fruit.
For more information about the Gourmet Cheese of the Month Club, visit http://www.CheeseMonthClub.com or call 800-625-8238.
About Us:
Established in 1994, Gourmet Cheese Monthly Club is just one of the six gourmet Of the Month Clubs owned and operated by C&H Clubs USA. With almost two decades of delivering gourmet products right to their customer's door steps, C&H has earned an A+ Better Business Bureau rating and a loyal customer base.