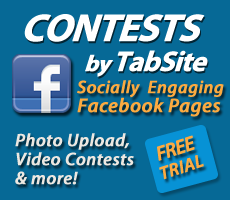 South Bend, IN (PRWEB) April 26, 2012
Businesses on Facebook can now expand their Facebook Fan Page to include full featured Contests using TabSite. Page Admins can run Photo Contests, Video Contests, or Essay Contests to engage their users and expand their reach socially with the TabSite Contest tools.
TabSite has always offered a full suite of Facebook Fan Page tab building tools for small and medium sized businesses. The suite of tools includes professional templates, sweepstakes and a multitude of widgets to add videos, twitter feeds, blog posts, and more to enable easy customization of fan page tabs.
Now with Contests, TabSite offers a complete array of tools making it a one-stop platform for all your Facebook Page needs. TabSite is Facebook Timeline compliant with tab pages that are 810 pixel wide.
When using Contests, Facebook Page Admins can easily create and manage user generated Photo contests. Visitors to the Facebook Page would be able to enter and vote on entries submitted. Each entry or vote has social sharing options such as Facebook's Like, Send, and Comments, and there are additional social sharing tools including "Tweet" and Google's "+1" that are integrated, empowering those entering and voting to share and virally extend the reach across the web.
TabSite offers a free 14 day trial of the Gold Plan with Contests. This includes all the Contest tools, including Photo Contests, Video Contests, and Essay/Writing submission Contests, along with the full suite of TabSite features for Fan Page customization and management.
View the complete Contest details on TabSite's blog.