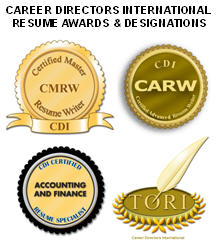 Companies know to hire specialists to assist them. It should be no different for a job seeker who needs to sell themselves to land job interviews. Being the best at a profession doesn't make someone the best at marketing said profession.
Melbourne, Florida (PRWEB) April 25, 2012
Findings of the 2012 Global Hiring Survey on what employers and recruiters seek in resumes has led Career Directors International (CDI) to the realization that it's time to set the record straight on who should be the one to write a job seeker's resume.
CDI's President, Laura DeCarlo, states that as the Resume Certification committee evaluates the recent survey findings that, "One thing that is immediately clear is how sophisticated a resume must be today to try to make all possible reviewers happy. From human recruiters and employers to ATS systems, everyone seems to be looking for something a little different. Creating this kind of win-win is a tightrope walk that job seekers need to be aware of before they embark on writing their resumes."
On the surface the assertion that a job seeker should write their own resume makes perfect sense – who knows a person better than themselves? The reality is that when someone writes about themselves they can lack perspective on:

what employers want to know;
what ATS systems require;
how to stand out visually;
how not to get caught in unnecessary or heavy content; and
how not to take information for granted.
"It's the issue of what is taken for granted that can cause the greatest challenge" states DeCarlo. In short, job seekers at all levels and in all industries tend to get caught up in assumptions that:
their responsibilities will speak for themselves and also make their skills clear;
their job titles and past employers will demonstrate value;
their resume will be read by a qualified decision maker;
reviewers won't make assumptions about what isn't included;
reviewers will understand the value of in-house projects and unique specifics; and
they themselves haven't taken for granted key content.
Job seekers need to realize that competition for employment today means having to sell themselves in seconds on a resume, which comes down to a complicated mix of key words, personal branding, results stories, overcoming challenges to avoid negative opinions or assumptions from the reviewer, dealing with the needs of different reviewers, and doing it all in a quick-to-scan and easy-to-read manner while taking nothing for granted. Learning the profession of resume writing is hardly something most job seekers will have the time or desire to pursue effectively.
CDI recommends partnering with a certified resume writer such as
Certified Advanced Resume Writers (CARW) or Certified Master Resume Writers (CMRW) who have met rigorous credentialing and continuous education requirements. These certified resume writers have the talent and skill to:
capture a job seeker's accomplishments, stories, and unique brand;
research industries and professions to position key information effectively;
handle challenges related to employment, career changes and gaps, or education;
harness language and formatting to create engaging content;
satisfy different reviewer needs (clerks, decision makers, ATS and OCR systems); and
give job seekers an enhanced perspective on their value.
CDI's website offers free resources for job seekers along with tips on how to select a resume writer or career coach in their Job Seeker section. Further, those with CARW, CMRW, and CRS credentials can also be identified using the 'Find a Career Pro' function on the page.
Results of the 2012 Global Hiring Survey are shedding light on a variety of current resume myths. The complete findings will be made publicly available by CDI from the main page of their Job Seeker's section as soon as the final report is completed.
About Career Directors International – http://www.careerdirectors.com
CDI is a global professional association committed to ensuring that career and resume professionals can grow and thrive in a rich, vibrant, exciting, and nurturing environment. CDI is focused on championing the industry's cause for credibility and visibility; fostering exceptional success in every generation of career and resume professionals; and cultivating the career superhero that exists within each one of us.