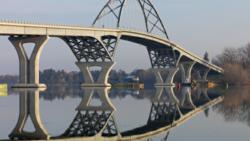 Our firm is proud to have been a part of this important project and honored to have contributed to the staff's effort to deliver on the state's high standards of sustainability.
New York, NY (PRWEB) April 26, 2012
In commemoration of Earth Day 2012, New York State Department of Transportation Commissioner Joan McDonald presented an "evergreen" award to the Lake Champlain Bridge project in the state's first-in-the-nation Green Leadership in Transportation and Environmental Sustainability (GreenLITES) program.
The Lake Champlain Bridge is located in Crown Point, NY and is a primary connection between New York and Vermont. The bridge closed unexpectedly in 2009 due to the discovery of severe deterioration and then subsequently demolished. A new replacement bridge (2,200 feet long with eight spans, including bridge approach roadways) was constructed at the same location and opened to traffic in November 2011.
The project traverses French and Indian War historic sites in both states, is within the Adirondack Park and crosses pristine Lake Champlain, all areas of high environmental and cultural sensitivity. Temporary ferry slips and landings were built in less than three months, and the ferry was used during bridge construction to eliminate a nearly 100 mile detour for traffic needing to use the bridge. The work was done without collateral intrusion into the environment, while protecting and preserving the historic sites.
"We applaud NYSDOT for its commitment to rebuilding and maintaining our transportation system in a sustainable manner, recognizing the need to reduce transportation's carbon footprint and preserve our natural surroundings," said Peter Melewski, vice president and Albany office leader for HNTB. "Our firm is proud to have been a part of this important project and honored to have contributed to the staff's effort to deliver on the state's high standards of sustainability."
GreenLITES is a nationally-recognized program which demonstrates that building and maintaining a transportation system can and should be done while minimizing impacts to the environment. GreenLITES utilizes a rating system to score NYSDOT transportation project designs and operations and to certify them in four increasingly rigorous tiers: "certified," "silver," "gold" and "evergreen," the highest rating. The more sustainable elements incorporated into a project or activity, the higher it scores.
The bridge was designed by HNTB national chief bridge engineer Theodore P. Zoli and built by Flatiron Construction. Zoli, who was recently named Engineering News-Record's Award of Excellence winner for 2012, is the first structural engineer to receive a MacArthur Fellowship, sometimes called a "genius grant."
About Flatiron
Flatiron, with a construction volume of more than $1 billion in 2011, is one of the leading providers of transportation construction and civil engineering in North America. Flatiron develops innovative solutions to construct infrastructure, including roads, bridges, tunnels, and rail transit and water/wastewater treatment plants, for both public and private clients and has constructed some of the largest and most notable infrastructure projects in Canada. Flatiron also operates as a contractor in design-build and public-private partnership projects. Further information is available at http://www.flatironcorp.com.
About HNTB
HNTB Corporation is an employee-owned infrastructure firm serving public and private owners and contractors. With nearly a century of service, HNTB understands the life cycle of infrastructure and solves clients' most complex technical, financial and operational challenges. Professionals nationwide deliver a full range of infrastructure-related services, including award-winning planning, design, program delivery and construction management. For more information, visit http://www.hntb.com.