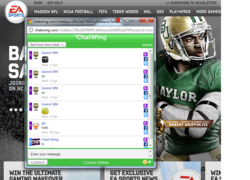 Dallas, TX (PRWEB) April 24, 2012
Game blogging has been around the cyberspace for quite some time already. This is because gaming is one of the most interactive things to talk about in the Internet today. Adding to that, gaming promises fun to all types of audiences. Developers of a website chat box known as Chatwing were keen enough to see the growth of this niche. This is why they are working round the clock to ensure that Chatwing delivers a new chatting experience for everyone.
For starters, Chatwing is a chat box that operates on a simple yet powerful platform. Chatwing also has a relaxing purple theme, contributing to its current overall rank. Since Chatwing is a chat box, visitors can chat through it and exchange information. This is why game bloggers can benefit a lot from Chatwing.
Information is a very important thing for game blogs. Without proper game information, the blog will become inactive and visitors will look for another. Adding to that, the game blogger must be able to post interesting entries about the niche or game that he is tackling. The entries can be about tips, walkthroughs, game secrets, and ways to make in-game money. Common game blogs today are about big games such as Skyrim, Zelda, Mass Effect, and Saint's Row.
Chatwing also empowers the premise of website chat. Through this, visitors will be entertained. This is useful for start-up blogs, or blogs that are recovering their visibility and activeness. Another great thing about Chatwing is the Facebook log-in option. Once this option is selected, the user can now log in using his Facebook account. From there, he can start exchanging profile information with other users.
Installing Chatwing's free chatbox doesn't take much time. In fact, there are only three steps prior to installation: registration, customization, and actual embedding. The user can customize the height, width, color, and title of the widget. After the embedding process, the widget will go live in just few seconds. Because of this accessibility, Chatwing is generating new sign-ups everyday.
About Chatwing
Chatwing.com has developed live chat software for websites and blogs. The Chatwing.com website offers users the ability to signup and create a customizable live chat feature in 1 minute or less. Users have the ability to customize the size, color, and fonts of the chat product. The ability to chat via social media accounts such as Facebook and Twitter enable Chatwing to offer a personal and unique real-time experience to all sites. Chatwing is 100% free web software.