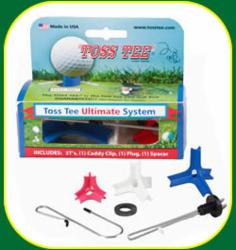 Elma, NY (PRWEB) April 25, 2012
Toss Tee makes their presence known at the Made In America Store by adding to the sporting department of footballs, Frisbees, horseshoes and other golfing supplies. The Toss Tee makes golfing easier by requiring almost no effort to setup
The Toss Tee is a rubber-like mechanism that will always land the right way, making the tee-off incredibly easy. The four pronged device works in a way that all the golfer has to do is throw the Toss Tee down in the area they want to drive and the Toss Tee will always land the right way up, eliminating the need to bend over and put a tee into the grounds. Each leg of the Toss Tee is the same length, always giving the golfer the perfect driving height.
Consumers looking to purchase the Toss Tee can visit http://www.MadeInAmericaStore.com or our store location located in Elma, New York.
The Toss Tee System comes with its own patent retrieval mechanism. The retrieval device fits every club and can be installed by the golfer or a pro shop using simple instructions. The retrieval system is put into the grip end of the club, hidden in the hollow shaft and brought out when needed. With the Toss Tee System, a golfer will never need to bend over to pick up his tee or to put their golf ball onto the tee.
The Toss Tee System has multiple benefits including no more broken tees and it doesn't damage the golf course. Golfers who have a hard time playing due to back problems can solve their issue by picking up the Toss Tee. Individuals often stop playing the sport due to the strenuous work needed to set up the tee. Toss Tee helps those individuals get back to the game they love.
The Made In America Store is located at 900 Maple Road in Elma, New York and is committed to selling 100% American manufactured products. You can visit http://www.MadeInAmericaStore.com for more information or shop our catalog of over 290 vendors that are devoted to producing USA made products. All US military personnel both active duty and retired receive a discount every day. Consumers can also keep up to date news articles, events, photos and contests with Facebook, Twitter, Google+, Pinterest and Tumblr!