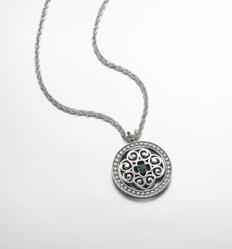 It is an honor for Jostens to play a role in recognizing individuals who acknowledge the impact of Girl Scouting experience on their leadership and service.
Minneapolis, MN (PRWEB) April 25, 2012
Girl Scouts River Valleys Council collaborated with Jostens to design the exclusive 100 Girl Scout alumnae pendant. The one-of-a-kind pieces were provided by Jostens, a leader in fine quality affiliation jewelry, to recognize the 100 outstanding Girl Scout alumnae who exemplify the qualities of courage, confidence and character that leaders strive to instill in girls. Jostens is a Silver Sponsor of the Girl Scouts River Valleys 100th Anniversary celebration.
The custom designed jewelry portrays a symbol of commitment and service that characterizes the accomplishments of each of the 100 honorees. The recognizable Girl Scout Trefoil logo provides the central design theme to represent the three-fold promise made by all members. The green stone catches the eye as the color synonymous with the Girl Scout movement.
"Like Jostens, Girl Scouts has a rich legacy of celebrating achievements through lasting keepsakes. Jostens has been a generous partner in creating several pieces of jewelry that provide an enduring memory for our Centennial Honorees," said Linda Keene, CEO of Girl Scouts of Minnesota and Wisconsin River Valleys. "These works of wearable art will be passed down and treasured by the families for generations."
The historic icon is encircled by a detailed pattern that depicts simplicity, symmetry and inclusion. Each pendant is finished with the words "River Valleys Centennial 100" engraved on the back to capture the event that will become a lasting part of the rich legacy of Girl Scouting in the region.
Jostens' employee Susan Navratil was among the 100 Girl Scout alumnae to receive the custom pendant at the Centennial Awards Gala held on April 21 at the Minneapolis Convention Center. Navratil serves as a Principal Business Analyst for Jostens. She is instrumental in developing innovative ways to help consumers and groups recognize life's milestones and tell their stories with lasting keepsakes.
"It is an honor for Jostens to play a role in recognizing individuals who acknowledge the impact of Girl Scouting experience on their leadership and service," said Natalie Stute, Sr. Human Resources Director, Jostens. "We are particularly proud of Susan Navratil's accomplishments as a member of the 100 Girl Scout alumnae and Jostens."
The 100 Girl Scout Alumnae pendants were designed by Jostens in collaboration with the Girl Scouts River Valleys Council. The pendants were produced at the Jostens Denton, Texas fine jewelry facility. Founded in 1897 in Owatonna, Minnesota, Jostens is headquartered in Bloomington, Minnesota and is celebrating its 115th year of operation.
About Jostens
Minneapolis-based Jostens is a provider of products, programs and services that help people celebrate important moments, recognize achievements and build affiliation. The Company's products include school yearbooks and other memory book products, scholastic products such as class rings and graduation products, and products for athletic champions and their fans. Jostens is a subsidiary of Visant Corporation, a marketing and publishing services enterprise servicing the school affinity, direct marketing, fragrance and cosmetics sampling and educational and trade publishing segments.