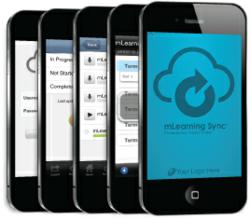 mLearning Sync delivers the ability for learners to take their courses with them wherever they go.
Provo, UT (PRWEB) April 25, 2012
Rapid Intake® announced today the completion of their powerful new mobile learning deployment system, mLearning Sync™. This system enables developers to deploy training courses in HTML5 format as a downloaded application, allowing mobile learners access to their courses while they are offline.
Rapid Intake's mLearning Sync provides an efficient publishing method as well as a detailed reporting console that is comparable to most Learning Management Systems. Developers simply upload their courses to mLearning Sync and make assignments so that learners can download the courses on their iPads, iPhones, and Android devices.
"Today's on-the-go workforce demands flexibility in their training," says Garin Hess, General Manager and Founder of Rapid Intake. "mLearning Sync delivers the ability for learners to take their courses with them wherever they go. Robust reporting also allows managers to see the progress of their learners."
Security concerns are also addressed with mLearning Sync by extending course management beyond the point of download. Managers can choose to grant access to the course indefinitely, or automatically delete courses from learner devices on a specific date or when the course is completed, blocking access to sensitive training after the intended time period.
Downloaded Mobile App. Developers can deploy courses to mobile devices (iOS and Android) through a custom branded application so that learners can take their training whether they have an Internet connection or not.
Synchronization of Scores and Progress. Learner activity that happens offline is synced when an Internet connection is re-established. Scores, progress, and time spent in the course are reported to the sync server and made accessible to managers.
User and Course Management. Managers can create or import learner accounts, create groups of learners, and upload and assign courses within the mLearning Sync admin console.
LMS Integration. Customers can see mobile learner progress in their current LMS through an integration with the mLearning Sync server. SCORM or AICC data is passed from mLearning Sync to the current LMS so that all data can be viewed in one location.
About Rapid Intake:
Rapid Intake is the leader in rapid interactive e-learning/m-learning development and review. The powerful, flexible Rapid Intake toolset helps instructional designers and content owners collaboratively create and deploy Flash/HTML5-based interactive courses, quizzes, games, and simulations built on proven learning patterns.