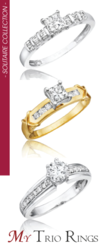 "With recent improvements to the My Trio Rings supply chain, we are now able to cost-effectively source conflict-free solitaire stones for our rings."
New York, NY (PRWEB) April 26, 2012
Based on popular demand, My Trio Rings today released a new line of solitaire engagement rings catering to an otherwise under served clientele in search of affordable diamond engagement rings. The new line, priced at an average of 65% off of MSRP, will continue to further the company's mission to help customers save money while still experiencing timeless traditions of marriage, the company announced on their blog today.
Since 2009, My Trio Rings has sold high-quality engagement and wedding rings – as well as "trio" sets, which bundle the engagement ring and men's and women's wedding bands in one set – at prices significantly lower than traditional retail stores. This pricing strategy is achieved by the company's unique business model, which includes an e-commerce platform that reduces overhead through a direct-to-consumer manufacturing/sales approach. My Trio Rings then passes these savings on to customers at prices between $350-$1200 for the newly launched solitaire engagement rings.
In the past, My Trio Rings focused solely on cluster head engagement rings, which feature a group of smaller diamonds arranged in a single setting. While the design technique is less expensive and provides an impressive visual impact, many visitors to the company's site were in search of a more traditional aesthetic. Now, new modifications to the manufacturing process allow My Trio Rings to offer individual solitaire stones with the same high quality, low cost, conflict-free guarantee already offered on their cluster-head designs.
"Our customers are looking for the best deal possible on a wedding ring set; however, they were often disappointed to find that we did not offer a solitaire option in any of our designs," says My Trio Rings CEO Vipul Lakhi. "With recent improvements to the My Trio Rings supply chain, we are now able to cost-effectively source conflict-free solitaire stones for our rings."
My Trio Rings will begin offering solitaire diamond engagement rings today in trio wedding ring sets, bridal sets and individual engagement bands. To celebrate the launch, the company is launching a two-week Facebook photo promotion, in which visitors can vote for their favorite solitaire ring designs to reveal exclusive discounts on the new line.
For more information and to view the new line of solitaires, visit http://www.mytriorings.com.
About My Trio Rings
My Trio Rings helps people buy authentic gold and diamond engagement and wedding rings at a fraction of the cost charged by traditional high-end retailers, making true love truly affordable and helping people experience tradition without emptying their wallets. Customers can purchase affordable, matching trio ring sets, his/hers wedding band sets, bridal sets and engagement rings available exclusively through My Trio Rings.
My Trio Rings is privately owned and a member of a diamond and jewelry industry group with a 45-year worldwide presence and offices in Belgium, India, Canada, United States and Dubai. My Trio Rings also boasts an international clientele, having shipped to Trinidad and Tobago, St. Lucia, Canada, Kirgizstan, Australia, Finland, Kuwait, Dominican Republic, and Korea, and many other countries.
Contact:
Punit Shah
Director of Marketing
855-MY-RINGS ext. 702
pr(at)mytriorings(dot)com
http://www.mytriorings.com