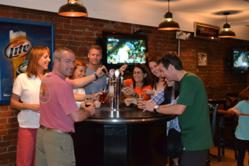 We saw the trend developing with these mobile tables and...we decided we had better get ahead of the curve
Rosemont, PA (PRWEB) April 25, 2012
Earlier this week two of Ellickson USA's mobile Draft Tables made an appearance in the Villanova area local establishment, Flip and Bailey's. This seems to be a growing trend in the Philly region as we have seen them pop up at 'Xfinity Live', the behemoth sports bar complex in the South Philly Stadium complex as well as 'Rebel' on Spring Garden St, Dave & Buster's on Delaware Avenue and Plymouth Meeting and there are rumors of more downtown this Summer so the trend is growing.
It seems this is not just a regional trend. Josh Goodman, Ellickson USA's CEO/COO said, "We have over 200 tables nationally now in about two years and most of those have sprung up in the past 6 months, the demand is growing considerably now that we have proven that the concept works and pays off quickly. We are seeing a lot of growth in mobile tables because of their ease to install and operate but also in our new beer walls."
Damien Given, GM for the group that owns Flip & Bailey's, commented that "we had been looking to invest in a unique business driver at one of our three locations for some time but wanted to make sure it would be a solid investment before we did. We saw the trend developing with these mobile tables and, as we are seen as somewhat of a trend setting place, we decided we had better get ahead of the curve."
Local area Villanova students can now enjoy pouring their own beers any night of the week and who knows, maybe they can also get a little training for that Summer job at the Jersey shore into the bargain!
Headquartered in Timonium, MD, Ellickson USA, a subsidiary of Irish Company Ellickson International, was founded in 2009 and provides innovative technologies that enhance the commercial performance and social dynamic of bars, restaurants, hotels and an array of hospitality businesses. Working closely with the hospitality community and world-leading brands including Marriott, Starwood Resorts, MGM Properties, Diageo & Dave & Buster's. Ellickson USA supports on-premise owners and beverage brands in several exciting ways: the company's flagship offering, the Draft Table™ beer dispensing system provides marketing impetus, waste reduction and competitive advantage. Bevdok™ is the company's latest product introduction poised to deliver strong results against the unsolved, industry-wide issue of unsanitary soda gun dispensers. It's the first and only automated soda gun sanitizer in the world today. Check it out at http://www.cleansoda.com