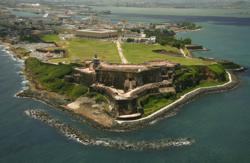 Puerto Rico Does it Better
San Juan, Puerto Rico (PRWEB) April 26, 2012
The Puerto Rico Tourism Company (PRTC) encourages travel enthusiasts to watch the premier episode of the Travel Channel's new series "Park Secrets," which will prominently feature Puerto Rico, on Wednesday, April 18 in a special episode entitled "Private Islands."
The episode will showcase Vieques and several of its local favorites and previously kept secrets, including Hix Island House, a beautiful 13-acre natural lodging refuge, and El Quenepo, a restaurant known almost as much for its relaxing ambience as its authentic, delectable cuisine. Viewers will also virtually visit the incredible 19th century sugar plantation at Central Playa Grande.
"This is just the first of multiple segments highlighting the Island," said Luis G. Rivera-Marín, Executive Director of PRTC. "This is an exciting time for Puerto Rico tourism, as programs like 'Park Secrets' showcase just how Puerto Rico does it better."
The Travel Channel also filmed the Porta del Sol area in western Puerto Rico, which offers a multitude of options for any budget, as well as secluded beaches, rustic guesthouses, luxurious small hotels and myriad restaurants.
"The best part is that anyone can visit these amazing spots, and a great place to start is our website (http://www.seepuertorico.com)," added Rivera-Marín. "Also, consider flying direct from the U.S. to the Aguadilla airport on the western side of our beautiful Island, which has so many unexplored treasures."
"Park Secrets," which emphasizes the hidden gems and secret hideaways in well-known tourist locations, chose to extend filming in Puerto Rico because the Island offered so many amazing yet unknown attractions. The show also selected Puerto Rico for its convenience. Puerto Rico is just a quick flight from the continental United States, and no passport is required for U.S. citizens.
For more information about visiting Puerto Rico, call your travel professional or go to See Puerto Rico.
About the Puerto Rico Tourism Company
The Puerto Rico Tourism Company (PRTC), founded in 1970, is a public corporation responsible for stimulating, promoting and regulating the development of the tourism industry. It markets Puerto Rico as a tourism destination through advertising, public relations and promotional activities; promotes tourism among local residents; provides visitor orientation and technical assistance to investors; evaluates tourism facilities and establishes standards of quality; and regulates and oversees gaming operations. PRTC has offices and representatives in the U.S. mainland, Canada, Europe and Latin America.