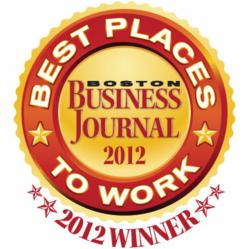 We've worked really hard to create a company where people want to work and a company that people want to do business with.
Boston, MA (PRWEB) April 26, 2012
The Boston Business Journal has named property management software company Buildium, LLC one of the Best Places to Work in Massachusetts in its tenth annual regional awards program. The honor recognizes Buildium's achievements in creating a positive work environment that attracts and retains employees through a combination of employee satisfaction, working conditions, and company culture.
Buildium was one of over 400 companies to qualify for consideration based on a two-stage nomination process and the results of employee-satisfaction surveys taken throughout March & April.
"We've worked really hard to create a company where people want to work and a company that people want to do business with," said Michael Monteiro, co-founder and co-CEO of Buildium. "To be named one of the best places to work by the Boston Business Journal proves we're on the right track."
"Our Best Places to Work event will again recognize the importance of cultivating a great workplace culture as a competitive advantage," said Chris McIntosh, publisher of the Boston Business Journal. "Companies on our list can be justifiably proud of creating a high level of workplace satisfaction during an economy where traditional rewards like big raises and bonuses aren't as easy to give. In good times and in bad, our results validate how the creation of the right corporate culture can create powerful business advantages. Employees are proud to work for companies that are about more than just business."
The top 25 companies in three size categories — small (20-100 employees), midsize (101-500 employees) and large (more than 500 employees) — will be awarded during a lively breakfast on June 1 at the BCEC and profiled in a special supplement of the Boston Business Journal.
For more event details, please visit http://www.bizjournals.com/boston/event/63481.
About Buildium
Buildium provides simple and affordable cloud property management software solutions to landlords, property managers, condominiums, and homeowner associations. Founded in 2004, today more than 5,000 customers use Buildium's online property management software to manage nearly half a million units in 31 countries around the world.
About the Boston Business Journal
The Boston Business Journal is greater Boston's leading source of business news, information, and events, reaching readers through the weekly print publication, the website bostonbusinessjournal.com, and e-mail products. The BBJ also prints the annual Book of Lists — the region's top resource for business decision-makers seeking information about potential clients, suppliers, and partners.