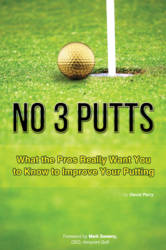 "If you root everything back to the word fun, you improve faster and enjoy the game more" - John Hughes
Fort Collins, CO (PRWEB) April 29, 2012
In his new book, No 3 Putts, Dave Perry interviews top rated instructors and shares proven techniques that will help all golfers improve putting effectivness.
Most golfers will approach the 2012 season with the same approach as last year and the year before that, and so on. Without any changes in approach to putting, golfers will get the same results year after year. As contained in the book, some new approaches to the 2012 golf season that will help all golfers improve their putting.
According to John Huges, National Director of Instruction at Advantage Golf Schools, "too many golfers over think things and make things more complicated than they actually are. They tend to read things into situations or shots that don't exist."
Carol Presinger, Golf Magazine Top 100 Instructor, advises "When people are in their zone, that's when they are having fun." This is a key observation. With a focus on fun, players get in the zone quicker, more enjoyment and lower scores.
Sam Emerson, PGA Horton Smith Award Winner, recommends golfers "Enjoy the game." Play at your level and enjoy it.
One common thread in the book No 3 Putts, is taking an attitude of fun and enjoying the game. Too many golfers get trapped into focusing all on mechanics and are not able to enjoy the game. This may seem simple, but the advise from these and other top rated instructors is to step back and bit and focus on enjoying the game to improve quicker.
David Perry is author of No 3 Putts, What the Pros Really Want You to Know to Improve Your Putting. The goal is to help golfers improve thier putting, reduce playing times, enjoy the game and play more golf
John Hughes is National Director of Golf at Advantage Golf Schools.
Carol Preisinger is a top rated instructor at Kiawah Island.
Sam Emerson is an award winning instructor.