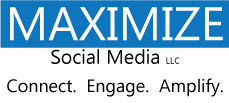 "We recognized early on that our focus needed to be in this undeserved market as most midsized businesses aren't able to afford full service social media agencies," said Mike McLaughlin, President of Maximize Social Media LLC
Los Angeles, CA (PRWEB) April 24, 2012
Social media management firm Maximize Social Media LLC announced today a midsized business program that will offer full service social media management to companies for under $2,000 a month. This program will offer full Facebook timeline design, integration of contest applications, and targeted Facebook pay per click advertising for midsized businesses.
"Maximize is a unique social media agency that can provide full service management to midsized businesses for under $2,000 a month. Since we already operate in over 40 different verticals, we have the ability to scale and therefore are able to pass these cost savings onto our clients," said Mike McLaughlin, President of Maximize Social Media LLC.
McLaughlin said that his company's focus on midsized businesses is unique as most social media agencies are focused on Fortune 500 and larger companies. "We recognized early on that our focus needed to be in this undeserved market as most midsized businesses aren't able to afford full service social media agencies. We structured our company with this in mind and therefore have skilled social media managers already managing over 40 different verticals, including the popular verticals such as restaurants, car dealerships, dentists, and insurance companies among others," he said.
Maximize Social Media offers a full range of management services for busy company owners that includes Facebook, Twitter, LinkedIN, Pinterest, YouTube and Google+. Maximize's most popular offering is a turn-key solution for Facebook that includes the Timeline design, application integration, and daily moderation.
Businesses interested in full service social media management are invited to contact Maximize for a no obligation consultation.
About Maximize Social Media LLC
Maximize Social Media (http://www.maximizesocialmedia.com) is a leading provider of social media management services for clients in over 40 different verticals. With offices in Florida and Los Angeles, Maximize provides social media consulting and Facebook advertising management for clients in English speaking countries such as the US, Canada, and Australia. The company also features social media management outsourcing for busy social media mangers looking for additional assistance on a white label basis.