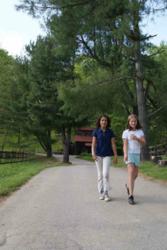 "Bullies look to inflict the same sense of hopelessness and vulnerability they feel, which is why we help our students and their families strategize how they can help change the bullies' bullying behavior." Equine Therapist Robert Jacoby, M.S, LPC, NCC
Asheville, NC (PRWEB) April 25, 2012
Asheville Academy for Girls, a therapeutic boarding school for troubled teens ages 10 – 14 at time of admission, has developed a curriculum for teens and families to identify bullying and how to prevent it.
"Many of the students arrive at our boarding school for troubled youth having had difficulties with bullying and so few understand how to deal with it," commented Equine Therapist Robert Jacoby, M.S, LPC, NCC. "Bullying only stops once we recognize that it exists and develop the assertiveness to put an end to it."
Asheville Academy's Bullying GamePlan is a curriculum specifically developed for troubled girls and parents to help develop assertive communication skills, one of the cornerstones to successfully dealing with bullying. Through the GamePlan lessons girls recognize the signs of bullying, develop skills for assertiveness, and are challenged to stand up for themselves and others who are bullied. The lessons also highlight the nature of the bullies and how support and understanding can lead the bullies to find more positive means to gain attention.
"In my experience, bullying was the physical manifestation of a loss of love," continued Mr. Jacoby, "Bullies look to inflict the same sense of hopelessness and vulnerability they feel, which is why we help our students and their families strategize how they can help change the bullies' bullying behavior."
During the therapeutic boarding school's bullying curriculum, a young student commented, "In my experience, bullying is a way for the person to make everybody feel as bad as they do. The bully is feeling so much pain that they want nobody to be happy!"
Asheville Academy for Girls' Bullying GamePlan training includes a webinar for families that demonstrates how to see the signs that their children might be the victim of bullying and how to provide the emotional support for their children. The curriculum includes girls at the boarding school to help everyone understand when to seek help and additional resources.
For information about the therapeutic Bullying GamePlan curriculum, the parent webinar, or Asheville Academy's boarding school for troubled teens, please contact Bryan Tomes, Executive Director at (800) 264–8709.
Asheville Academy is a leading therapeutic boarding school for troubled girls 10 - 14 years old. Founded by professionals with over 75 years experience in designing and operating therapeutic placements for adolescent girls, Asheville Academy is working to become the international leader in emotional, behavioral, and academic interventions for young ladies. Asheville Academy is a member of the North Carolina Division of Non-Public Health, Small Boarding School Association, and CARF International. For additional information please visit http://www.AshevilleAcademy.com or call (800) 264-8709.