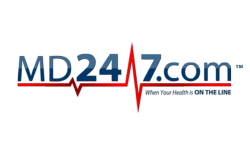 Pertusis can be deadly.
Tampa Florida (PRWEB) April 24, 2012
Telemedicine leader MD247.COM provided telehealth program members, as well as readers in areas like Boston and New York City, information regarding a recent whooping cough outbreak in Tampa Florida and surrounding areas. Doctors from the telemedicine provider explained whooping cough, scientifically known as "Pertussis," is a highly contagious bacterial disease that causes uncontrollable violent coughing which is marked by a deep "whooping" sound as the infected person attempts to catch their breath. The telehealth company informed program members that the onset of illness often mimics a common cold, with symptoms appearing roughly a week after exposure and the coughing starts about 10 to 12 days after the initial onset of symptoms.
MD247 explained pertussis, or whooping cough, is a dangerous upper respiratory infection caused by either the Bordetella pertussis or Bordetella parapertussis bacteria. It is a very serious disease that can cause permanent disability, or even death in infants. The telemedicine provider explained that outbreaks are becoming more common due to weakening of the immunization in people over the age of twelve.
The telemedicine provider explained that adults may believe that they are immune to pertussis due to childhood immunizations, but the safeguards weaken over time. MD247 explains that it is suggested by the CDC that everyone over the age of 19 receive a "booster" vaccine against pertussis called Dtap, and then a Td booster every 10 years. Dtap will help prevent diphtheria, tetanus and pertussis. This ounce of prevention stops outbreaks before they ever occur.
Seminole Florida based MD247 (MD 247; MD/247; M.D. 247; MD247.COM) provides discounted telemedicine healthcare services nationwide to families, and discounted wholesale telemedicine healthcare to businesses. MD247 has successfully provided 25,000 people the ability to talk to a doctor twenty-four hours a day, talk to a nurse twenty-four hours a day, receive discounted prescription drugs and receive discounted in-person healthcare services. In addition to discounted healthcare services, MD247 provides support to groups supporting the employment of veterans of the United States Armed Services. MD247 services, as well as informational blogs, can be found for review online at http://www.md247.com.