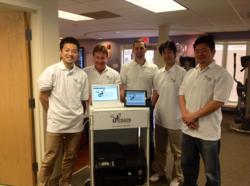 Hajime Wachi (ATC, PES), Yoichi Takeuchi (ATC, CSCS), and Akira Kitagawa (PT) have spent hours at the Bedford and Londonderry locations training
Bedford, New Hampshire (PRWEB) April 24, 2012
Integrity Health Coaching for Women is embarking on its first international license in Kobe, Japan. In association with the Anshin Clinic, an orthopedic group headed by Dr. Yasunoba Sunny Iwasaki, Integrity's Health Coaching system will be employed to help heal diabetes and post-rehabilitation patients.
Pioneered by exercise physiologist, Rocco Boulay, Integrity Health Coaching for Women's unique EZ Coach program will enable Iwasaki and his team to deliver exercise prescription and meal planning to their patients. Over the past week, Hajime Wachi (ATC, PES), Yoichi Takeuchi (ATC, CSCS), and Akira Kitagawa (PT) have spent hours at the Bedford and Londonderry locations training with Boulay and foreign relations director and former professional baseball player, Greg LaRocca, learning the functions and operations of the business, and most importantly, client education and fulfillment - exercise prescription, meal planning, and natural supplementation, all of which provide the backbone to Integrity's innovative approach to healing and rehabilitation.
By sharing this pioneering strategy with his new international associates, Boulay is providing the tools to help them face many of the same challenges the US is currently battling, including type 2 diabetes, high blood pressure, and high cholesterol. Iwasaki sees enormous value in this approach, citing that "under our free access national medical insurance system, I see many patients who only need muscle strengthening with the correct instruction that teaches them to modify his or her dietary and exercise habits. We see more than 6000 new patients a year who may benefit from our health coaching centers."
Through the process of educating people on exercise, nutrition, and supplementation, Boulay and Iwasaki hope to raise health standards and help those in need to regain – and sustain – their health, wellness, and overall quality of life.