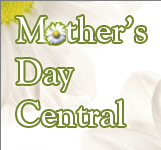 There's a fine line between giving gifts with meaning, and giving gifts for gifts sake.
San Francisco, CA (PRWEB) April 25, 2012
Each year, millions of loving family members give consideration to what might be just the right gift for mom on Mother's Day.
"Our job at Mother's Day Central is to take some of the stress out of the process, and point people in directions that are compelling and relevant for the times and tastes of families all across North America ... and many other parts of the world too!" said Doug Smith, a co-founder of Mother's Day Central."
"We have a responsibility to our readers to get it right," said Smith. "And if we don't, they let us know, which only makes us better over time. Editors work from Jan through May each year to get the site ready for the Mother's Day season."
How can any one website produce recommendations that are potentially relevant to millions of moms and families, across all walks of life?
"It isn't easy!" admits Smith. "But, it is fun and challenging."
"There are certain almost universal truths about what moms want on Mother's Day. The most important thing is always quality family time, along with little demonstrations of love and thoughtfulness."
When it comes to gift giving, the age of the children is all-important. Younger children should create something meaningful for mom, like a small craft project or even just a hand-made card. Blank Mother's Day cards and "fill-in-the-blank" coupons are popular among kids.
"Our Top 10 Gifts List is really more for teens and adults," said Smith, "who are starting to think about buying something nice for mom, usually within very specific budget constraints."
"The risk is that Mother's Day has become too commercial. There's a fine line between giving gifts with meaning, and giving gifts for gifts sake. That's where Mother's Day Central comes in. At any and every budget level, it's possible to find gifts that mean something to mom, and gifts that don't. So, we try to surface ideas that elicit a response among gift givers and moms. Jewelry gifts are great if mom likes jewelry, because they are something special moms often won't buy for themselves. But kids don't need or want to buy diamond tiaras for mom. They'd rather find a unique or customizable jewelry gift, like for example, a pendant with birthstones embedded, or a photo gift that holds special meaning for the family."
On the other hand, sometimes Mother's Day Central offers up a surprise, like virus protection software to keep mom's computer and identity safe from increasingly invasive PC hackers.
"In the end, we have to surface ideas that have potential meaning for kids and their moms. That could mean gifts that elicit special memories, or honor moms in some way, or help keep moms safe. Then it's up to the kids to determine which choices might offer the most meaning for their special mom!"
In addition to producing its annual Top 10 Mother's Day gifts, Mothers Day Central offers extensive information on Mother's Day activities and outings, recipes, poetry, crafts and everything needed to help families celebrate Mom.
For more information about Mother's Day gift giving, and all things Mother's Day, contact Laura(at)mothersdaycentral(dot)com or visit http://www.MothersDayCentral.com