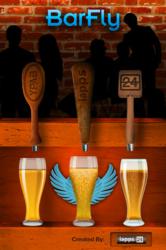 West Des Moines, IA (PRWEB) April 25, 2012
When iapps24 mixed smartphone technology with Happy Hour, an unparalleled marketing entertainment app was created. For one client of iapps24, this means owning 3 bars and being able to interact with all her patrons through push notifications built in the mobile app. For bar patrons, this means hours of posting, tweeting, uploading, rating and all around perusing the special locale BarFly has to offer.
BarFly is a customized version of iDrink an mobile solution for iPhone and Android with a simple and cost effective subscription model. iDrink allows bar owners to build their brand and customer base through the app's custom design and easy to navigate interface. Supported by Android, iPhone and the iPod, iDrink reaches a wider breadth of market saturation giving bar owners more chances to interact with their target audience.
For customers who love hearing about special promotions but hate getting spammed, iDrink comes equipped with push messaging. Through the online admin website, bar owners can learn to increase sales by sending out personalized messages introducing special offers and promotions.
iDrink also takes advantage of the social media sharing trend used to refer friends to products and services. Integrated with Facebook, Twitter and Foursquare, app users can tag, post, tweet and locate each other for shared experiences. Other features users can take advantage of are finding bar information; taxi cab numbers; beer, cocktail and shots menu; and an interactive drinks carousel where users can rate beverages and more.
Whether it's a spontaneous night on the town or a significant occasion, iDrink is the app that allows bar owners to make sure users are well prepared and entertained throughout the night. For more information visit idrink.me/ [http://www.idrink.me/ __title__ iDrink]or download BarFly from the iTunes app store.
About iapps24
At iapps24, we build custom smart-phone applications for entrepreneurs and small-to-medium-sized businesses. Any platform, any project. Our mobile application portfolio includes image and video processing, deep integration with social networking platforms, tracking and navigation, animation, data manipulation, and augmented reality.