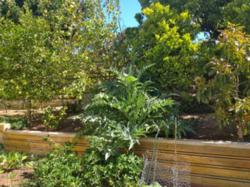 "It doesn't get any fresher than harvesting your own fruit and vegetables at Lajollacooks4u!"
San Diego, CA (PRWEB) April 25, 2012
Lajollacooks4u, a hands-on cooking class and dining experience, is embracing spring with the abundance of all of San Diego's beautiful locally-grown produce.
Founder and Chef of Lajollacooks4u, Jodi Abel, said spring in San Diego offers up a variety of vegetables and herbs that are key ingredients for some of the most flavorful meals. "We're stirring up creamy asparagus soups, spring minestrone soups with fresh pesto, along with spinach salad with strawberries and fennel in a citrus vinaigrette," Abel said. She add that quinoa with spring vegetables and fish, crusted with fennel and cumin seeds, topped with cilantro yogurt sauce, blend in nicely with the soups and salads.
Lajollacooks4u also recently installed a greenhouse to help accelerate incubation of seeds. Six-to-eight weeks after germination, the seedlings are then transplanted in the vegetable garden. "We're currently growing arugula, flat-leaf parsley, broccoli, spinach and a host of other herbs and vegetables within the greenhouse," Abel said. Currently Lajollacooks4u's organic garden is harvesting spring onions, Swiss chard, artichokes and all kinds of fresh herbs. Abel said that reservations are coming from all over the country. "Lajollacooks4u is a very popular activity for tourists and locals who want to experience a very intimate and unique cooking and dining activity," Abel said.
Lajollacooks4u's cooking classes are customized for each individual group, accommodating a wide variety of palettes and cooking experiences
Lajollacoks4u, founded in 2008, provides an ideal activity for couples, corporate team building and any foodie looking for a gourmet cooking and culinary experience in an ideal setting overlooking the Pacific Ocean. Based in La Jolla, a suburb of San Diego, CA, Lajollacooks4u has enjoyed record growth since its inception and has been ranked the number one attraction in La Jolla on the world's largest travel review site, Trip Advisor. For more information, contact Jodi Abel at jodi@lajollacooks4u.com or phone 1-858-752-4980