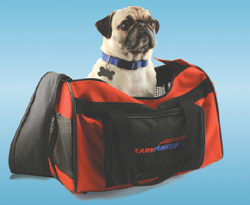 This cat fanciers (or dog lovers) dream is a kennel and survival kit all in one
Destin, FL (PRWEB) April 25, 2012
Many animal lovers agree that "pets are people too". Although biologically incorrect, the needs of the lovable family dog or cat are right on par with a human's. Food, water, shelter, entertainment, these things are necessary to create a sustainable environment for a pet. When disasters happen, it is easy for responsible owners to put the needs of themselves and their families above a pet's. Knowing this, Ready America created an innovative product that makes evacuating with "Fido" or "Mittens" easier than ever. Disaster Relief Supply is now stocking these Ready America Pet Kits in anticipation of the 2012 Hurricane Season.
The Ready America Pet Evacuation Kit is meant for owners of cats and small dogs. This cat fanciers (or dog lovers) dream is a kennel and survival kit all in one. The kit includes food, water, pet bowl, toys, ID tags, leash, first aid supplies, and even pet waste bags! All of the contents are carried in a portable duffel bag-like kennel. The supplies offer a 5 year shelf-life so the kit can be stored in an easily-accessible place and retrieved quickly when disaster strikes.
Why did Disaster Relief Supply choose to stock Pet Evacuation Kits? I guess curiosity, but the Disaster Relief Supply staff is hoping that curiosity doesn't kill the cat! That is why the emergency preparedness retailer is choosing to carry a limited supply at first to see how these specialized kits fare both locally and online. If pet lovers catch on, more pet-centric emergency products could appear on the Disaster Relief Supply website and on store shelves.