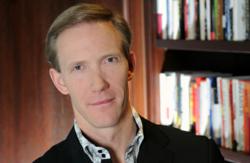 Kansas City, MO (PRWEB) April 25, 2012
iKC, Kansas City's innovation and entrepreneurship conference on June 20, 2012, will feature keynote speaker Dr. Michael E. Raynor, author of the The Innovator's Solution and director at Deloitte Consulting LLP.
Dr. Raynor is the New York Times and Wall Street Journal best-selling and award-winning author of The Innovator's Solution, The Strategy Paradox, and The Innovator's Manifesto. He is one of the world's foremost authorities on innovation and overcoming the challenges of turning new ideas into successful new businesses.
Raynor's research forms the foundation of his consulting work a Deloitte Consulting LLP, where he is a Director. He consults with senior executives in the world's leading corporations across a wide range of industries. Dr. Raynor will share his insights into innovation – what to do, what not to do, and how to do it – at iKC, the upcoming innovation and entrepreneurship event in Kansas City. iKC, formerly known as The Chamber's Innovation Conference and Think Big Partners' Think Big Kansas City, is a day-long conference that will be hosted by H&R Block. The mission of the conference is to foster innovation and creativity in Kansas City, help build the "City of Entrepreneurs" and provide innovation and startup opportunities for corporations, KC businesses and entrepreneurs.
"We are excited to have a world class speaker like Michael Raynor give the keynote speech at our innovation and entrepreneurship conference, iKC," said Herb Sih, co-founder of Think Big Partners. "There has never been a more important time in our city's history to bring innovation and entrepreneurship together and encourage collaboration that will benefit the city for years to come."
iKC takes place on June 20, 2012 at the H&R Block World Headquarters. Early-bird tickets are on sale now through May 23, 2012. The conference is currently seeking sponsors and speakers. iKC is hosted by Think Big Partners, LLC and The Greater Kansas City Chamber of Commerce. To learn more, visit http://www.sparkinginnovation.org or call (816) 842-5244.
About Think Big Partners
Think Big Partners is an early-stage startup accelerator and mentorship-based collaborative network located in Kansas City, Missouri. Think Big Partners has successfully launched or grown over 100 successful companies with its creation of coworking spaces, entrepreneurial conferences, essential services, startup resources and funding. To learn more about Think Big Partners, please visit http://www.thinkbigpartners.com.
About the Greater Kansas City Chamber of Commerce
The Greater Kansas City Chamber of Commerce is the area's oldest and only regional chamber of commerce, serving both Kansas and Missouri companies throughout the Kansas City metropolitan area. Founded in 1887, 2,500 companies and organizations belong to The Chamber, including most of the community's major employers.
The Chamber's mission is twofold: to provide responsive and committed leadership that builds a vibrant and thriving community and to assist members in growing businesses. For more information, visit http://www.kcchamber.com.
###